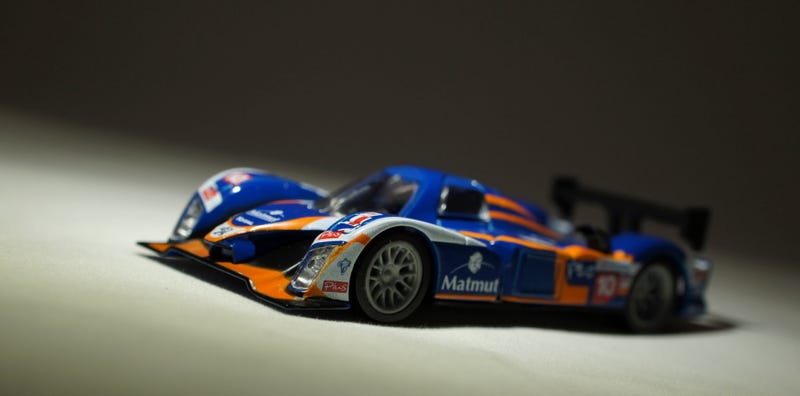 This here, is the Peugeot 908 Hdi Fap Oreca that competed in the Le Mans 2011. As TFritch already did an amazing piece on the 2010 collaboration between Peugeot and the Magny-Cours based motorsport company I can focus on the model a bit. And I might have said it before but I really love how Norev uses actual liveries on their racing cars. Even if it's just a 3".
Because that's just what this is: a tiny 3". In all it's glory. And Oreca is a company that's been collaborating with many other companies. They did work for Renault as they assisted Renault Sport in building the new Megane V6 for the Renault Eurocup. But not just French companies. They ran an Audi R8 in 2005 with the assistance of Audi France.
And it wasn't just Eurostuff: Oreca ran the Saleen S7R in the Le Mans Series and did win the 2006 Spa-Francorchamps race in the Le Mans series. And they worked closely with Dodge on the Dodge Viper Competition Coupe, producing well over 100 customer cars in the period 2006–2007 to GT3 specification. Or what about Toyota's TS030 Hybrid? In 2012 ran by the Oreca team.
Last years though it really got epic. To me at least. As, to show the world Alpine was coming back, the Alpines A450, 460 and A470 were made. That last one is basically just an Oreca 07, the other ones were based on the Oreca 03 and 05. And that's not all: the 2017 Vaillante Rebellion is an Oreca too!!!
This one however, did the 2011 edition of les 24 heures du Mans. It featured a Peugeot HDi 5.5 L Turbo V12 (which was the engine Peugeot themselves used a year before) and finished that year as 5th. Of coure Audi reigned Le Mans completely that era but... Peugeot was close that year. Position 1 was for Audi but 2-5 were Peugeot's. And the number two had run 355 laps, just as the Audi.
And if I'm not mistaken it would prove to be Peugeot's last year at Le Mans, 2011. And without Audi it's getting really poor in LMP1: just 3 different manufacturers. Just like Peugeot's car lineup has gotten a bit poor since the great 205/106 GTI/rallye has been killed.
Or the calendar of epic events. No more F1 at the Nordschleife. No more sportscars at the Circuito Piccolo delle Madonie, can you imagine Le Mans-like cars tracking the old Targa Florio track?
But that's it for today, time to concentrate on more important things. Le Mans. If you want to see more on the 908 here on LaLD you can also check out 13's post or go way back and check a 1/43 I have of the 2007 Peugeot 908 Hdi FAP.
Vive Le Mans, vive le sport! Bon week-end!