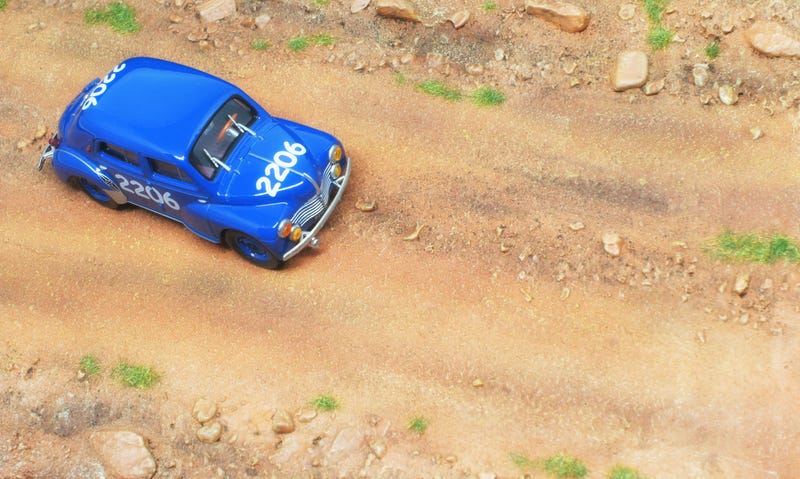 It's been a while since I did a post on a Renault 4CV derived car. So it's about time I did another one, and it actually is a plain 4CV, a 1063, that proved it wasn't just local races the 4CV competed in. Because this one went all the way up to Italy.
Because this one entered the 1954 Mille Miglia. With a guy behind the wheel we would hear so much more of later on. Not for his race results but because he would give us one of the world's prettiest cars ever a few years later. Jean Rédélé. Of Alpine-fame.
Not that he wasn't unsuccessful in this MM: He finished 66th overall but... He was first in his class, the 750cc (Turismo Serie Speciale 750) class. And it's not as if Jean was the only one competing in that class: He had to beat 70 other 4CVs, FIAT 500Cs, Stanguellini 750 Sports, Panhard Dynas, Citroën 2CVs and even some Iso Isettas for that!
The entire even was insane with almost 500 entries. The hole concept was insane actually: Driving from Brescia to Rome and back (routes varied over the years), a distance of about 1600kms. Or 1000 miles. Routes were shorter once in a while (1500kms) but then the organizers just stated they were using Roman miles.
But most insane part to me was the fact you were allowed to drive it... Alone. No co-pilot. Driving for 11 hours at the tops of your capabilities. And navigating. At the same time. Not everyone did it by himself but Juan Manuel Fangio for instance did, after he lost his co-pilot in a race in South America he considered road races seriously dangerously and didn't want anyone else other than him self to get hurt.
Spanish driver Alfonso de Portago proved Fangio right in 1957. As he crashed his Ferrari 335 S (due to a blown tire) he not just took his own life but the one of his American co-driver Edmund Nelson as well. Nine spectators were killed in the process, ending the famous race once and for all: After 1957 it would be banned.
It was a true Italian thing actually as of the 24 initial races only 3 editions were not won by Italians. Maybe a bit, well, odd: The only WWII edition was won by the Nazis in their BMW 328 Berlinetta Touring driven by Fritz Huschke von Hanstein. The racing baron. With SS-333 on it's license plates, for a reason actually.
But all that is for another, either Spaghetti Sun- or Teutonic Tuesday. The model here is a Edicola "Magazine Models" in 1/43. I'm pretty sure they used the moldings of Eligor as Eligor had the same model, a lot of 4CVs actually.
That startnumber is actually pretty awesome as that tells you instantly how late it started it's over 12hrs stint: six past ten! The headlights are a bit too orange, not sure if that was in 1:1 world as well as all is B&W if you research the '50's of course.
Edicola/Eligor did replicate the claxon underneath the bumper a bit odd as I can't imagine it having the depth it does have on the 1/43. And in what world that license plate would have been legal is beyond me but that was on the 1:1 as well as you can see above. And that's it for this week!
Bon Week-End!