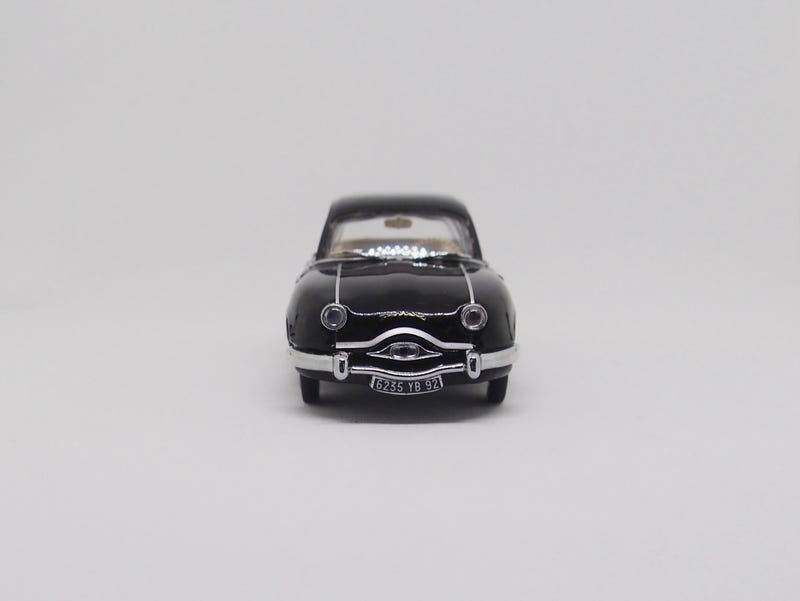 Here's one of my all-time favorite cars, the Panhard Dyna Z. Produced from 1954 - 1959, it was a pretty forward thinking economy car built by one of the oldest car manufacturers in the world.
Panhard et Levassor began selling cars in the 1890's and were pioneers of car design. They developed the Système Panhard which set the standard for how automobiles would be laid out: 4 wheels, engine in front, rear wheel drive. Seems so obvious to us now, but someone had to do it first. They also built a 4 speed transmission with reverse arranged with a mainshaft, layshaft, and sliding gears that also became the ubiquitous way transmissions would be built until Cadillac developed synchromesh.
Despite being trailblazers in the engineering department at the start, Panhard became oddly conservative between the wars, building elegant touring cars that didn't venture outside the box. Until 1937 when apparently the drums of war gave them a wake up call.
That's the Dynamic, a breathtaking art deco car that sat on a backbone chassis, had hydraulic brakes, all independent torsion bar suspension, and worm-gear final drive. It was something of a harbinger of the Panhard of the postwar years although they would never make something as grand and luxurious again.
After WWII, Panhard, like many European car companies, had to start making inexpensive cars to stay alive. But, that didn't stop them from innovating. They turned to J.A. Grégoire who was an early proponent of front wheel drive. He had designed a light, fwd car with all independent suspension for Hotchkiss just before the war. Panhard bought his first postwar design and turned it into the Dyna X, a fairly advanced economy car especially compared to the rickety machines that dominated the road right after the war.
It may not look like much, but with its light body, independent suspension, and compact air-cooled two cylinder boxer motor powering the front wheels, it was an incredibly efficient design. It was roomier inside than its competitors and extremely cheap to run. The lightness came out of a fortuitous situation in postwar France. There was an abundance of aluminum what with all the airplane factories shut down. So, the government promoted its use in automobiles. Panhard was the one company to really take that seriously. The Dyna was mostly aluminum in construction with only a steel frame.
Despite it being a much more modern car than the Renault 4CV and Citroën 2CV, the Dyna's sales lagged behind those cars. Panhard just didn't have the dealer network, or advertising budget of its Gallic competitors. And, by the mid 50's, the Dyna's body style was out of fashion. So, they totally went for it with the follow-up, our friend the Dyna Z here.
It had a bulbous, streamlined body that was a love it or hate it affair. It looked like nothing else on the road. I love the third headlight that gives it a fish mouth. At first, it too featured an all aluminum body. It was incredibly roomy for an economy car and could seat six. It had a top speed of 80 and made 40 m.p.g. It really was years ahead of its time when it was released in 1954.
It was again powered by a flat twin now making 50 horsepower. This new engine had some unique design features. The cylinders were cast integrated with the hemispherical heads in a light alloy with cast iron liners pressed into the bores. So, yes, it has a hemi. It had a bunch of other weird things like torsion bars instead of coil springs for seating the valves, a unique pushrod-camshaft system, and crazy technical ideas that make my eyes roll into the back of my head, but if you're an engine nut I suggest you go look up the 850cc Panhard 2 cylinder.
As aluminum prices went up, and steel prices went down, it began losing aluminum body parts in place of sheet steel. By '58 only the bumpers, gas tank, engine and transaxle casing, and cooling shroud were aluminum. This made the car heavier, but it was still thrifty. And there was a 60 hp Tigre version that was pretty peppy.
This Dyna sold better than the previous one, but its looks kept a lot of buyers away. It got a facelift with the next model, the PL17. It had a little more chrome and a noticeable lack of fish mouth.
Sales were steady, but Panhard could never catch up to the bigger brands despite continuing to innovate with their idiosyncratic designs. Throughout the 50's and 60's, Citroën kept acquiring more and more of the company to keep them afloat until they finally took over completely, phasing out the Panhard name in 1967. A quiet end for the company that literally did set the standard for the motorcar. Their name does live on in the Panhard bar, the suspension link affixed to so many street racers which was invented by René Panhard a century ago.
This is a 1:43 by Vitesse which is quite nice for its price. Good details and it gets the car's odd shape right. It's not the best roller, but I think I can fix that. And, it's really shiny.
I had a chance to buy a nice one of these once really cheaply and I didn't take it. Another one that got away. They're pretty hard to find. They did sell some here in the States. I think all our cars had the 60 hp motor. They were actually the cheapest "full size" car available in those days and that gave it something of a leg up on some other imports, so America became an important market for Panhard for a brief moment.