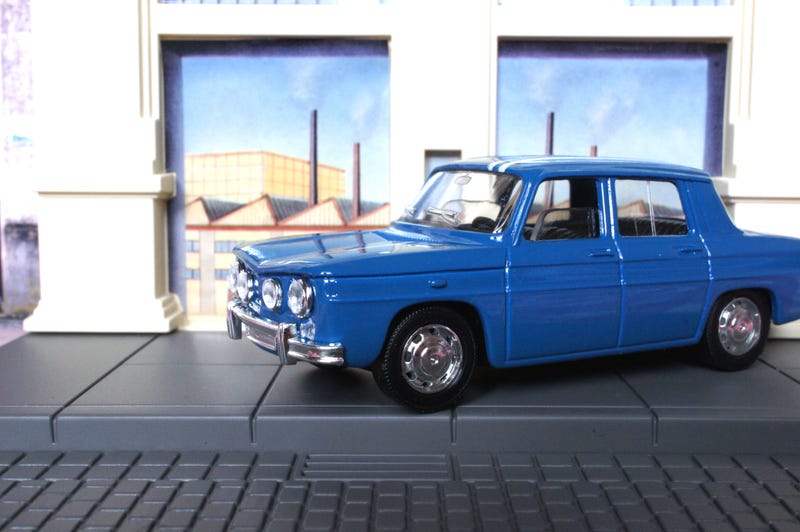 The 'Sorcerer'. That's the reputation Amédée Gordini had earned tuning cars, specialised in Simcas. Amédée Gordini actually was born Amadeo in 1899 in Italy but when he moved to Paris he Gallicised his name. He was great in tuning cars, running a business was something else. He went bankrupt in the 50s and turned to Renault. Who acquired his name and Amédée started working for/with La Régie.
For Renault he was involved with tuning engines for their Le Mans program. Alpine also used his knowledge to improve their engines. But Gordini really made a name when he developed an optimized-for-speed Renault Dauphine which Renault in return named the Dauphine Gordini. And Gordini did just that trick for several Renaults.
This one is a Renault R8 Gordini. The R8 was based on the Dauphine and inherited it's RR-layout. The non-Gordini R8 with it's biggest engine developed a mere 50bhp, the Gordini however had 90. An improvement of 80%!!! The extra power was obtained by a cross-flow head and twin dual-choke 40mm side-draft Solex carburetors. A four-speed close ratio manual transmission, dual rear shock absorbers and uprated springs were fitted. Mind you: The mother of all hothatches, the Golf GTI, was introduced years after this one!
Originally it only came in one colour: Blu Francia. The French racing colours. Two white stripes were added and have been it's trademark for all Renault Gordinis. In 1967 the R8 was uprated, the Gordini got an even bigger engine (from 1100cc to 1255cc) wit an extra 10hp. And extra Cibiés were added in the front, therefor we recognize this diecast as a post-1967 Renault 8 Gordini (The 'R8'-name had changed to just '8' in 1964).
This model is a 1/43 Solido. As always I think the details are pretty good for such a cheap (I think I paid about 6 euros for this one) diecast: lights are not just tampos, wheels look like the wheels mounted back then, a chromed exhaust pipe/bumper. I really like the fact the windows are somewhat open.
And just look at that dashboard: All these gauges!!!! Just the mirrors are missing and the wipers are 'molded' in the window itself.
And for all you customizers: The undercarriage comes of with a screw instead of a rivet. Just to bad there's no tread on the tires.
Being a Solido it came with both the blister and a box. Not sure where this Diorama is from, you see them offered on Ebay quite a lot.
Renault has tried to revive the Gordini-name in Europe in 2009 with a special Gordini trim on both the Twingo and the Clio. It was no success as just adding Blu Francia/white stripes/alloy wheels doesn't make a car a Gordini. Please Renault, bring back the real Gordini. No Clio RS 'Cup', the stripped track-ready Clio should be available in Blue only. And named after that sorcerer.