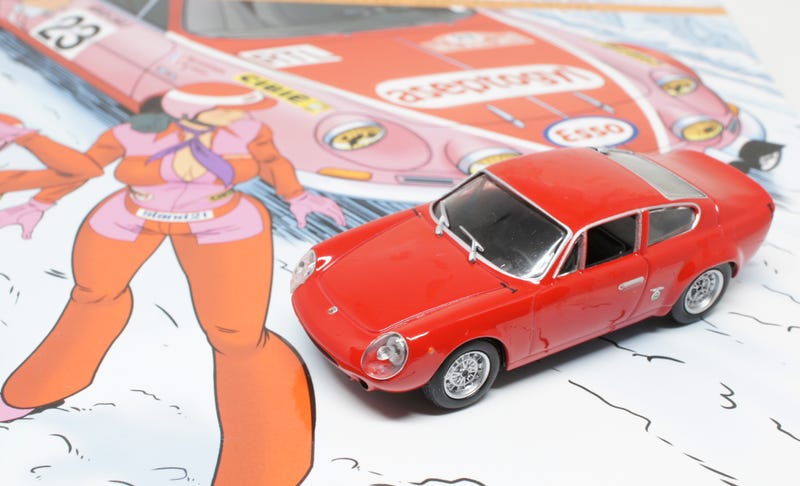 This probably is one of the craziest French cars I know. I've done a post on it's smaller brother the Abarth Simca GT 1300. It's still based on a 4" shortened chassis of a Simca 1000. A car capable of reaching barely 60 mph or 100km/h.
As Abarth mounted an engine twice as big one suspects that top speed to be twice as high. It wasn't. It almost tripled...
270 kilomètres par heure. Or 165 mph. Mind you: This was 1963! The to-be-introduced Miura reached just that. Using a 4-liter V12. The Abarth... Had a 2 mila/2 mille/2000cc four-cylinder.
But the engine of the 1000/1300 GT this one is derived from is way smaller than this Abarth 2-liter. So the main difference is to be found in the rear.
That gave Abarth the opportunity to adapt a curvy ducktail in the process. Imagine the handling this "tail-tricky" car must have. Engine mounted pretty high, behind the rear-axle. With a weight of 690 kgs even a Lotus Exige seems to be heavy.
Abarth started with a Simca 1500 block. But to get that staggering 202bhp it needed to be heavily reconstructed. Of course it's displacement was increased. Some blueprinting was done. A twin-spark head was mounted. But most impressive feature to me was the use of a pair of the largest Weber carburettors ever made: two 58mm-twin choke DCOs.
The engine proved to be pretty reliable. And as I said powerful: This Abarth Simca (Carlo insisted on the use of "Abarth" in front of "Simca") was even able to beat the Porsche 904 on the track and it won many, many races in the 2nd division of the European Mountain Climb Challenge. Abarth experimented with 4-, 5- and even 6 speed manual transmissions.
You see that chrome piece in the right upper corner of the rear-window? That's the cap for filling it's fuel-tank. And yes: that exhaust-tip is mounted to the back of the body, not just under the car.
The model is a 1/43 from the Italian company Metro Models. I think there's a link to Fabbri Editori, it's probably some promotional model for a series of magazines regarding Abarth. I bought it for about 5$ online. Only real flaw is the paint on the rear deck-lid but the pictures even don't show it so it's not that bad anyway. I think it's amazing quality for that price. Just look at the Abarth-print in red underneath the car!
Ciao tutti! Maybe this one could feature a Spaghetti Sunday as well but the Simca-link makes me want to show you this one on a French Friday. Because Simca was awesome.
Bon Week-end!