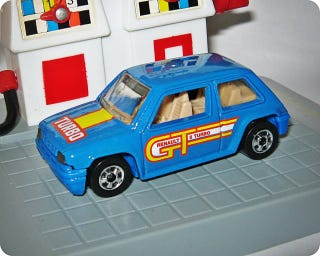 This is one of Hot Wheels' stranger releases - sold for only one year and only outside of the US. Why? I have no idea. And this isn't the Renault 5 Turbo - the mid-engined one.
This is the R5 GT Turbo - a sporty version of the second generation Renault 5, with the normal FF configuration and a Garrett Turbo charger giving around 120hp. The car weighed less than 900kg - so it had a pretty good power to weight ratio.
It had a body kit typical of the late 80s - and the usual issues that afflicted turbo cars of the era. Severe turbo lag, hot starting issues, and "interesting" handling.
It was made from 1985 to 1991, and was replaced with the Renault Clio 16v and Clio Williams, which featured a much more modern engine. The 5's engine's history dated all the way back to 1962, and it was still of a push-rod design.
Yet somehow, the Clio never had the same "je ne sais quois" as the R5. Some character went missing along the way, I guess. And that Hot Wheels released this casting in 1991, the last year of production, might be reason why it never saw the light of day again. Or maybe it just flopped in the market place. These cars still have a bit of cult following today, with a UK Club and website dedicated to them.