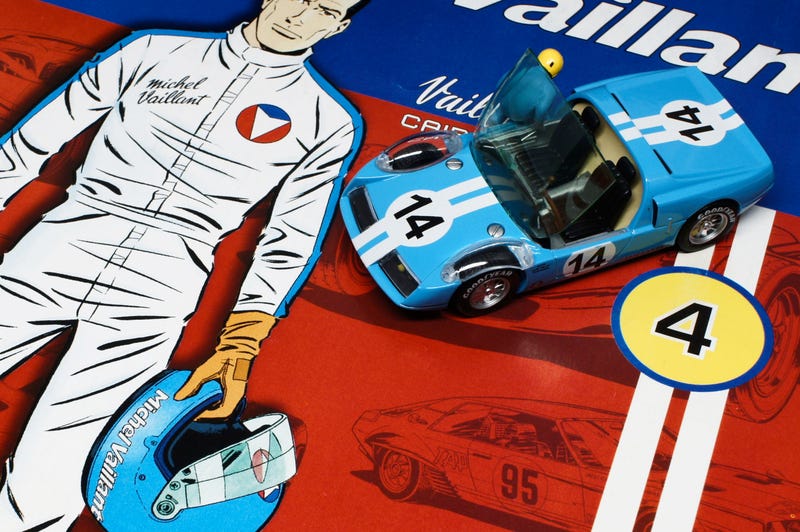 Bastille Day is the most important French national day. Setting the storming of the Bastille in 1789 as an essential part of the French History. The 14th July has become a major public holiday, traditionally considered as the symbol of the French Revolution. So to prevent me from relating a specific car manufacturer to the revolution I'll display a fantasy car today. Which is totally French anyway.
Une autre Vaillante. And with the most appropriate number ever this quatorze julliet. This is the Vaillante Sport Proto. A Le Mans racer that is supposed to be active in one of the Le Mans editions in which Bob Bondurant entered with a Shelby Daytona as Bob and his Shelby have a cameo appearance in the story. So the story in which the Sport Proto appears is probably set in 1964.
The story is about Michel Vaillant (white suit, white helmet) and his American friend Steve Warson (blue suit, yellow helmet) running into friends of Steve from the USAF: the Thunderbirds and their F100 Super Sabres. Another clue this has to be somewhere in the '60's.
The plot is pretty thin: The Vaillantes have some Thunderbirds riding shot gun and both Michel and Steve flying in the backseat of the Super Sabres. So an additional story line enters that shows all kinds of big (French) trucks from that era like Berliets, Saviems and even Citroëns.
The Sport Proto was as mid engined prototype as Michel himself describes it. It has a 3979 cm3 V12 so it was eligible for the FIA's P5.0 class, along with the Ferrari P330s and Ford GT40s.
With a power of 400 hp it was capable of speeds over 325km/h. The engine was fitted with 48 valves to get it's rpm a bit up, that 400hp was at 8250 rpm. It's rear wheels were propelled by a manuèl 5 speed and all wheels had Girling disc brakes. And what about those turbine-wheels?
It's polyester body was built on an aluminum tube frame. Most notable is it's canopy of course. That was made of Lexan, from the Bayer company. Nowadays it's mostly referred to as Polycarbonate.
Based on just the drawings the manufacturer (Atlas/Altaya) did a great job. And this really is one of the cheapest, most common cast from the series, you should be able to get these for about 10 euros. Easily.

It's just the figurine of Steve that's positioned on the car. I'm sure I can get it of but that will be final. I might try it though as I want to see it with it's canopy closed as well. Maybe I should try another animated gif...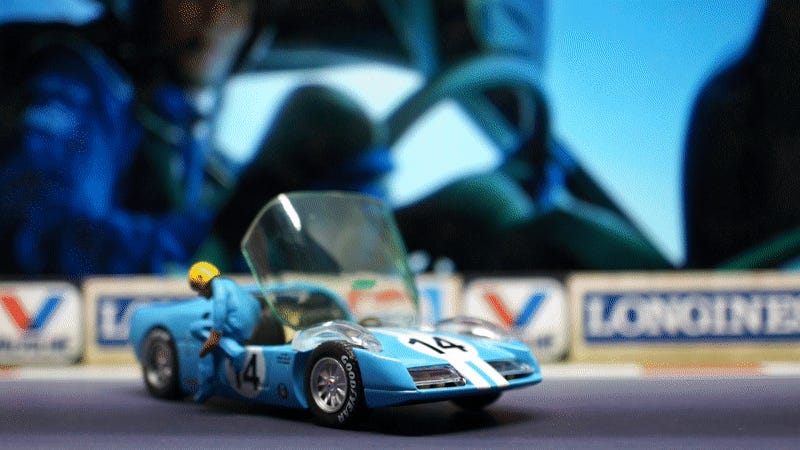 Hmmm... Need to position the camera more correctly horizontally alligned to the boarding!
And if you want to see the other Vaillantes I did before, they're here, here and here.
And that's it for today. Le Fin. Enjoy this 14th of July and I hope this to be a reason for all of you to get out some French stuff.
Bon Week-End!