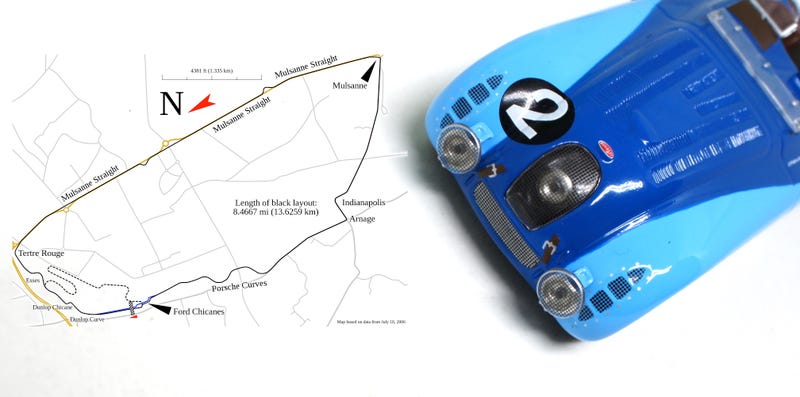 First of all: if you've never heard of Jean-Pierre Wimille go check out this amazing piece by Opponaut Jonee. An amazing read about un seigneur incroyable! Better take some time and don't skip a line: it's worth it. And for this French Friday we'll focus on the car Jean-Pierre used to win the 1937 edition of the 24 Heures du Mans: the Bugatti Type 57G. Nicknamed: The Tank.
And the world had to wait for two years before the 1937 edition started: There would not be one in 1936. Not because of Le Mans being a bi-annual event back then but the reason is as French as vin rouge or cordon bleu. Because of the great depression French workers started to strike all the time, resulting in a lack of workforce needed to modify the streets for race use.

One year later it was aviation journalist Roger Labric who took two Bugattis to Le Mans. One to drive himself with another known racing driver: Pierre Veyron. The other one would be driven by Jean-Pierre Wimille and his mentor Robert Benoist. The number two on display here is the latter and it won, 5 laps ahead of the number two, a Delahaye 135CS. And giving Bugatti it's first Le Mans win.
The car they used was a special edition of the type 57. It was a shortened and lower chassis of the "Grand Tourer" Type 57, the 57S:
For the 57G some more things were changed: it's chassis was lightened and the body was replaced with a streamlined "Tank" bodywork.

Engine-wise it was another 8 cylinder inline engine Bugatti used. With a capacity of 3,257 cc, double overhead camshaft configuration and a Supercharger it put out about 200hp. This was needed to give the tank a top speed of about 225 km/h. During the '37 Le Mans race the fastest lap was done by Jean-Pierre Wimille: It took him 5:13.0 to cover the 13.492 km track. An average of 155 km/h. Over 24 hours the average was 137 km/h. Keep in mind that there was barely any speed reductions other than the Tetre Rouge, Mulsanne, Indianapolis and Arnage corners.
Three of these 57G's were made. A grand total of 680, 710, 750 or 830 have been made, depending on who you believe. All the 3 G's are well documented though, but only one of these still is around and you Americans are lucky: that one (chassis 57-335) is in Philadelphia in the Simeone Foundation Automotive Museum according to a reply to Jonee's article (another must-read).
Actually it's odd to me this one would be called "The Tank" as it has quite some sleek profile if you ask me. Probably has to do with the fact most cars still had their fenders mounted to the body back then.
Two years later Bugatti/Wimille would win the 24 Heures du Mans again, using a new derivative of the 57: The Type 57C. Using the Long wheel base chassis and a supercharger that one was capable of 255 km/h. That was the car that would also kill the founding father of the Type 57, Ettore's son Jean Bugatti. After the '39 win Jean had taken it for a test-drive but after evading a cyclist with a speed of about 200 km/h he crashed himself into a tree.

The model itself is from IXO's Le Mans series. It is in 1/43 and, although it is pre-war (definitely not my favorite era), I like it a lot. No wonder Ettore regarded the Bentley Boys to "drive trucks". Details are great: the gauges on the dashboard well replicated.
And actually my initial plan was to do another post-war winner today but someone already used that one last week on French Friday ;-) Last week's FF was epic though, it's been a while since we had so many FF-posts on one day. Keep up the good work!
C'est ca! Je suis très excité à propos de les 24 Heures du Mans de cette année. J'espère que vous apprécierez aussi. Take care you all and I hope to see lots of Le Mans stuff this weekend. From all of you! Bon Week-End!