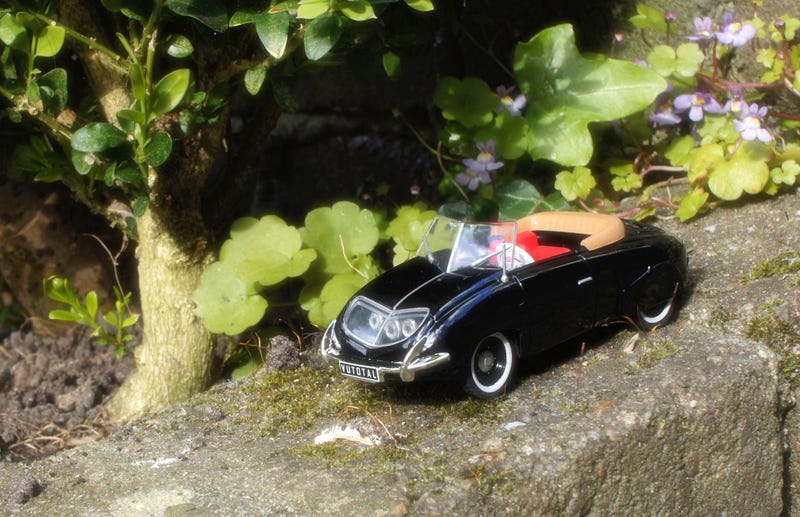 I always felt this one to look a bit like a Coccinellidae. Or Ladybird. Or Ladybug, whatever it's called over there: We call it a Lieveheersbeestje, freely translated into "Sweet lord's little creature". It comes without the black on red though.
What it is? It's one of Labourdette's Vutotals. And Labourdette was the surname of Jean-Henri, the third in line of a family of coachbuilders from Paris. Although that first line (Jean-Baptiste Labourdette) moved from Bearn to Paris in 1858 already. Jean-Henri was the monsieur Labourdette that got well respected though when he introduced the Skiff-style in 1912 on request from René de Knyff, director of Panhard et Levassor (and based on a Panhard 20CV). It has a boat(tail)-like construction on the chassis in which the passengers are seated. Made from Mahogany wood and helped by ship wharf Depujois it made quite the impression and lots of "Skiffs" would follow.
He also invented the Vutotal système. His desire to increase visibility and security aboard a voiture gave him the idea to eliminate the windscreen mounts and side window frames. Hence the VuTotal name: total visibility. And coachbuilders like Labourdette mainly focused on premium stuff so the Vutotal system was found on all kinds of high-end cars like Rolls-Royce, Bugatti and Delage. My favorite? Probably this:
The Labourdette Delage V12 Vutotal Aerodynamique. And before WWII over 100 Vutotal cars were build, even 6 35-seat busses. After the war there was no real need for stuff extravagant like this. But still Jean-Henri saw market for his système. When Renault introduced it's made-for-the-masses 4CV.
Because that's what this in fact is: a Renault 4CV convertible. Jean-Henri had developed a somewhat more normal 4CV convertible as well (with the "normal" 4CV nose, it lost two doors though) but that one came only two years (1952) after this 4CV Vutotal incroyable.
The Vutotal was presented by Vincent Auriol at the Paris Auto Salon of 1950. Monsieur Auriol was none other than the French president at that moment and that fact alone caused quite the resentment amongst other exhibitors. One of which would declare about the Vutotal that it "looked like nothing". Well, it didn't look like anything else at least.
A coupé was planned as well but story goes that one (the prototype) was converted into a convertible as well. I think there's not much knowledge of any survivors or production numbers. If you look for recent pictures: you probably won't find any. So I'd be surprised if there's one left.
I'm sure several were made as I saw pictures of it with either 3 or 2 headlights. And the 3 headlights wasn't the only "odd" thing, it's seating was as well. It's a three-seater!
But that single backseat was turned 90 degrees and the passenger had limited Vutotal. With it's top down there was no issue but when top was up he could only look at the side of the roof. Or dislocate his neck while trying to look forward all the time.
The model itself is another Eligor, made for Hachette's 4CV series in the news stands. That series is over 8 years old as we speak but still you can find one once in a while at the shops for about 10 euros. The regular resource for these magazine models, journaux.fr, had stated this one for being sold out for many, many years. But the entire 4CV series is not even on their site anymore, unlike the 2CV series.
C'est ca! I hope this top-down car will inspire our weather to improve a bit as it's freezing cold around here. Bon Week-End!