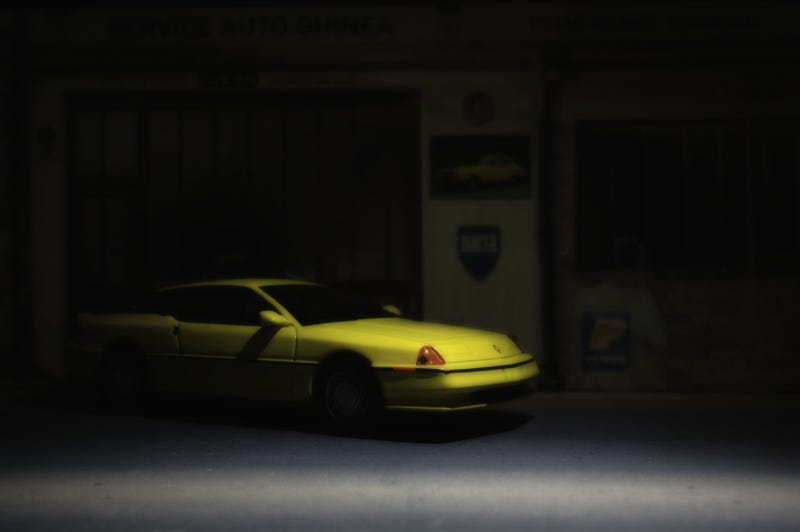 Here we go again: Another Alpine. Or rather: Two more Alpines to show today. And for both there's an American twist to 'm. The first one, this yellow one because it was meant to be sold in the USA. As Opponaut Jonee already shared with Oppo quite a while ago.
So no need to cover that topic. Okay, in short: Renault made their GTA V6 Turbo ready for the USA (other nose/bumpers, added catalytic converters). Were planning to sell 2500 a year over there. Only built 21. Were shipped. Decided not to continue the project. Shipped 'm back. Sold 12 units to European (???) customers. Others were converted back to Le Mans spec. More info on the GTA in general can be found in these older posts.
And the Eligor 1/43 I got from this USA edition comes with a separate set of bumpers. And if those white ones were the bumpers supposed to go on it I'm not that disappointed it never got there... The pictures you'll find online about the USA Alpine GTA luckily show it didn't though.
And this Eligor again proves how many variants Eligor makes of Alpines: Many of you probably didn't even know this was a thing in 1985. But I was talking about an American twist for two Alpines, so what is the other one?
Well, that's another Eligor: the Alpine V6 GT Turbo Europa Cup. Europa? Si. That one arrived over here all the way from California this week. From good Oppo-friend Jonee. Merci, monsieur Eisen! And say "Hi" to Leonard from me!
And that actually is all that's American about this one. Because this Europa Cup only raced in Europe. In the same year as the USA-project, 1985, Renault gave the new GTA some more performance credentials. The Alpine GT V6 Turbo Europa Cup was a Formula 1 support series which was raced prior to some European Formula 1 races.
Based on the 200hp Apine GT Turbo it was tweaked to 220hp (the last '88 iteration developed 280hp) and had some suspension work done as well some slightly wider wheel arches were mounted. While these Cup cars were not cheap, Renault ensured full grids by offering start money to the competitors.
So the series attracted a healthy mix of professional and gentleman racers. Amongst them Le Mans winner Jan Lammers and, hold your breath TFritch, Jean Ragnotti (it's about time he showed up at a French Friday once again). Eventually a total of 69 Europa Cup cars were built, most of 'm (54) already in 1984. Want to know how such an event looked like? Here you go (Dutch Alert!!!!):
Eligor just made one mistake in this one and that's it's wheels. All of the Euro-cup cars raced with the 3-piece white wheels you see here (and on Jan Lammer's car above) IIRC:
I'm not sure if the entire taillights were orange either. And, although Eligor made both, there seems to be a slightly different roof on these cars. The USA seems lower. Could be just my photography or the position of the car though...
Really glad with this Alpine GT V6 Turbo Europa Cup, totally made my week. Which was filled with Alpines as I got my most expensive model ever as well. From Dieppe. But that's for another day.
Et c'est ça! I hope you all don't get bored with my Alpines. As it certainly won't be my last. My holy grail still needs to be on display. Man I love Jean Rédélé's legacy. This will be his year again...
Bon Week-End!