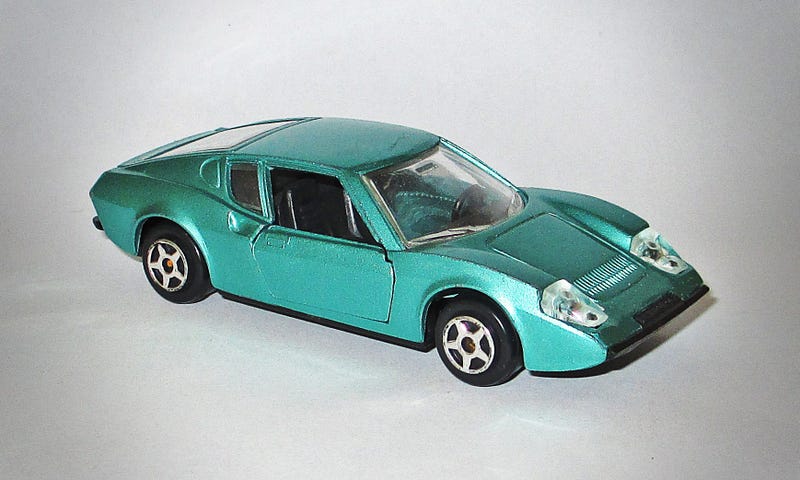 What would you call a man who played Rugby for his country, raced motorcycles and cars - in Rallies, LeMans and F1 no less - before manufacturing his own sports car? And then founded his own F1 team, and continues to manufacture cars to this day? A Legend, that's what I'd call him. And Guy Ligier was that man's name and he was amazing.
And yet, outside of France his name and his cars are hardly known. Time to change that, even in a small way.
Towards the end of his own racing career around 1968, Ligier developed the JS1 - named after his friend and fellow racing driver Jo Schlesser, who died in the ill-conceived Honda F1 car. The JS1 looked very similar to the JS2, but was built for racing only.
The JS2 prototype was first unveiled to the public in October 1970 at the Paris Salon. The body design was again signed by Pietro Frua. The JS2 was to be powered by a 165 HP fuel-injected 2600cc Ford V6. The power plant was not finalized though, and the rumor was that the final model might be powered by a Maserati V6. In either case, the JS2 would have a 5-gear synchronized Citroën SM gearbox.
Ford pulled out of the engine deal at the last minute (they supposedly were developing a similar car?) - so Maserati (via Citroën) supplied the engine as well as the gearbox. That engine suited the car's image better anyway.
Following the first oil crisis, the economic environment was not favorable to the commercialization of sports cars. When Citroën transferred the assembly of its last SMs to Ligier, production of the JS2 was completely discontinued. The ultimate version of the JS2, easily recognizable for its retractable headlights and its 5-nut wheels, was unveiled at the 1975 Geneva Salon. The selling price was 80,000 Francs ($16,000).
Only seven JS2s of the ultimate version with the retractable headlights were made. There seems to be no reliable production figure out there for the earlier versions, but it seems to be in the double figures.
After production of the JS2 ended, Ligier stopped making sports cars and concentrated on his F1 team. But prompted by the mid 70s oil crisis, he started to produce micro cars - and still does. In 2008, they bought the Micro car division of Beneteau and today they are the largest manufacturer of drivers licence free cars. And the Ligier models are still named after Jo Schlesser! Guy Ligier himself passed away in August of last year, aged 85. The company is now run by his son Phillipe.
Normally the story of small, enthusiast run car manufacturers are full of dramas and financial woes. But this is a real feel-good story. With an awesome car thrown in for good measure.
And for that reason alone, this one is definitely my favourite Norev Jet-car. And perhaps even my favourite French car, because of the person behind it. Norev must have really loved this car too, as they made a 1/64 version as well as this 1/43 model. And I still don't have that 1/64 - I need to change that.
Joyeuses Pâques everyone!