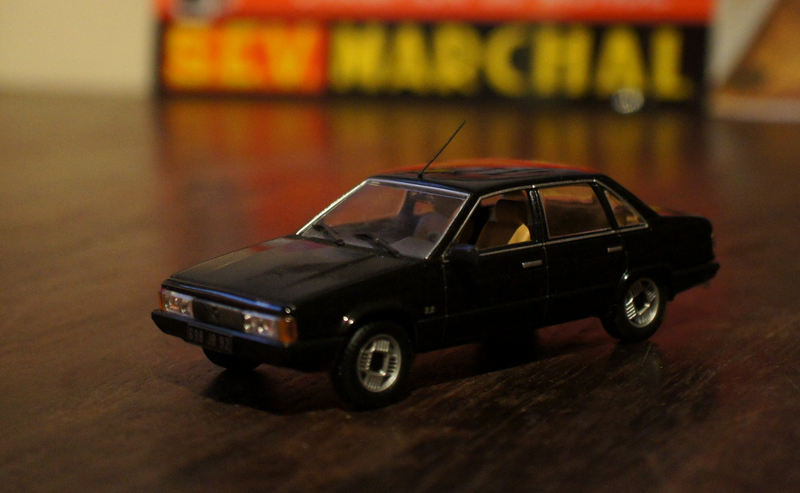 Way before Ford came with it's 'new edge design' in the late '90s, the French carmaker Talbot had a few boxy designs in their line-up in the '80s. Well, to be completely honest: a lot of the cars of the 80's were edged one way or another. Of course.
Talbot, a company/name owned by many different companies over time. Talbot's final episode was being part of PSA after PSA took over Chrysler Europe (Simca). As the Talbots never were succesfull for PSA, the name was dropped in about '86. The last developed Talbot was the Arizona but this one never was sold as a Talbot. This one was released as the Peugeot 309 (hence the 'odd' last number as all Peugeots of that era ended with a '5').
This one however, is a, probably not well-known to you all, Talbot Tagora GLS 2.2. Just look at the wheels and yes, it's confirmed: This must be French! The Tagora was a boxy four-door saloon marketed as a Ford Granada or Vauxhall Carlton/Opel Rekord rival. As it was not popular anywhere (nearly 20.000 sold), not even in France, production ceased already in 1983.
It could be had as this 2.2 four-banger, the infamous 2.7 PRV V6 and, wait for it, a 2.3 4 cylinder TURBO DIESEL engine! Remember: This is 1981!!!! This diesel had 80bhp and 180+Nm of tire-shredding torque. With all that torque and RWD it wasn't a bad ride at all.
But the combination of not standing out (motoring press found it good but not nearly as good as a at that moment 7 year old design of the Volvo 244), very few marketing and an already very crowded market meant it wouldn't last very long.
The model itself is an 1/43 Altaya. It comes in a jewel case with a small picture diorama of the Arc de Triomphe. It could only have been more French if they took that picture from the Champs-Elysées instead of the Rue de Marceau:
And they could have taken the picture without that W123 of course.
The back of the picture consists of the global specifications of the 2.2. That 2.2 was also used in the mid-engined Matra Murena and was a redeveloped Simca 180 2.0 engine.
Not much of the Tagoras have survived. Collectibility of this rare car came too late (last few years) for this one. Details of the Altaya are pretty good for it's price not nearly a third the price of a Minichamps. Just look at that exhaust pipe coming out of the rear and that spare tire/wheel with the same design wheels.
That's it for this week's French Friday for me. Next week I'll get something more sporty out of my collection.