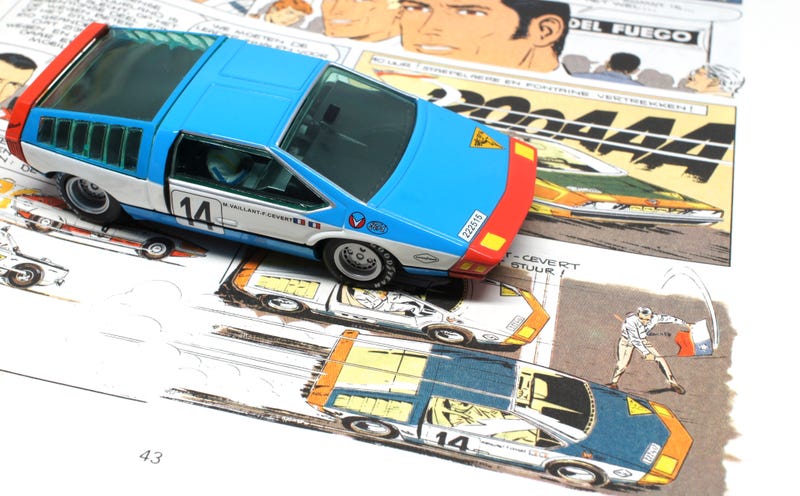 After seeing TFritch's post on the '74 RSR I knew it was time to do another post on a Vaillante. And as Tucker is a big fan of François Cevert why don't I show the car that our hero Michel Vaillant shared with blue eyes Cevert? It was called the Vaillante Rush.
And does it get any more '70's than this? Sharp lines. Wheels taken directly from a Countach LP400. That shape: Alfa Romeo Carabo anyone? And usually I can point Jean beating the designers by a year or two but for this one: Alfa was first. Shown at the 1968 Paris Motor Show. Rush, the comic this car featured in came out four years later...
Rush the Michel Vaillant episode number 22. It's about a road race over the two American continents: From Alaska to Tierra del Fuego. The Vaillante team consists of the usual suspects Michel Vaillant and Steve Warson but they are joined by François Cevert and Chuck Danver to create a two-car team.
And it was, I think, one of the first episodes in which Jean Graton felt there was some need for company collaboration. As these cars were officially called the Vaillante-Ford Rush. I'd suspect Ford to deliver the engines but according to the specs (5-litres V12, 4 camshafts, 6 twin webers, putting out 380hp): it doesn't ring a bell for me.
The Rush comic itself is actually one I only recently got hold on to. And the collection of digitalized copies I once found did consist of all the episodes, but this one.
Of course the model comes in it's usual packaging. Blue box, smallish "diorama", car and figurines.
And that's it for today actually. Did Michel win the race? No he didn't. He was run of the road by Bob Cramer but luckily some other Vaillante made it to Tierra del Fuego first. Enjoy your easter and weekend and take care!
Bon Week-End!