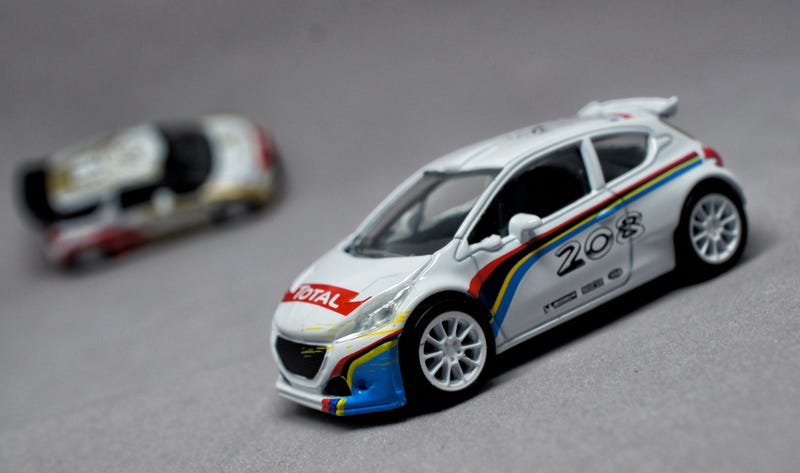 Two weeks ago I plugged a LEGO idea on the 205T16 Groupe B rally kit by AbFab1974. Thanks to the help of Opponaut davesaddiction (he got the official WRC Twitter to share it!!!) it went a (little, little) bit "viral" (well, I'm sure there was more help we don't know about but I like to think LaLD had a big part in it): from 150 supporters the day I posted it to about 4500 two weeks later! With 589 days to go he should be able to reach that 10k supporters needed for LEGO to at least think about this product. Just keep spreading the word!!!
So what better way to give an update on this matter than to accompany it with another Rally(e) Peugeot. Way more modern. Smaller than the LEGO. This is Norev's 3" iteration of Peugeot's 208 T16 ERC competitor. It's the same as Amoore100 got from his friend when she visited Paris (what a gal!) except this one wasn't a dealer box. It was part of a Norev Racing 5-pack.
There was another French rally car in that 5-pack: it's little nephew, Citroën's DS3 WRC. The 208 T16 wasn't used for WRC as that was a dedicated 208 with the name, you guessed it already, "WRC". The T16 was a bit more of local contender. So if you want to see a jumping & flying 208 you'd better look for that WRC. Or do we actually have to???
As there was nothing on either Amoore100's box or mine to pinpoint which 208 (there's quite a few different Rally 208s, at least 5 I know of) it actually is we have to look a bit better to the cast. It can't be a WRC as that one has a way bigger spoiler on it's back, just as that DS3 WRC has. It can't be the 208 Racing Cup as that one has a more integrated rear spoiler.
Then there was the Pike's Peak 208 (which often is referenced to as the T16 as well to make it even more complicated) but that looked waaaay more extreme. Leaves out the 208 RC or the T16. Only the T16 has that lower cut-out in the the rear fender So it's definitely the T16. And that's a good thing as that RC is "just" a de-tuned, normalized T16.
It's built for the FIA R5 class and is equipped with a four cylinder 1,598 cm3 engine. Of course it's fitted with a turbo and it puts out 280hp/400Nm. It's a 4WD and the transmission is also somewhat more dedicated: a sequential 5-speed by 3MOP. With it's weight of just over 1200kg that should be quite a blast to drive.
And Norev definitely hit a soft spot for me: Just look at those wheels! It's a 3" cast!!! It reminds me to check out Rallying a bit more as well as that used to be my favorite kind of racing. Always appealed much, much more to me than races on a track, driving the same lap over and over. And more down-to-earth cars I can relate to way easier as well.
As we're getting from one (LEGO) subject to another (Norev) here's another one: In last week's Xantia-post I showed a new "off-the-shelve" Col de Turini diorama by Altaya. It's supposed to be 1/43 but somehow I find that hard to believe as the Xantia showed:
These 3"s or 1/64 fit it way better. Just check it out:
Just needs more skid marks. And maybe some post editing to add some "speed" and flying gravel to it. Dadurling? And that's it for this week. I hope you all had a great work-week and I really hope to see more French goodness today. And Philipilihp decided next Teutonic Tuesday will be all about the Porsche 917. Enough time to prepare yourselves for that I'd presume!
Bon Week-End!