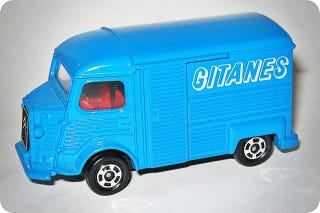 You couldn't get away with it today, putting a cigarette brand on a toy. Back back in the 70s, it was not a problem. And the cigarette companies certainly knew how to make cool liveries for cars. Think about it, a lot of the classic racing teams took on tobacco sponsorship: Marlboro, Camel, JPS and so on. And of course, then there were the alcohol sponsored cars. And the toy companies made small versions for the kiddies in all their bad habit forming glory.
And to give the French kiddies something to cough about, Tomica introduced two of their "F-Series" models in "Gitanes" livery. "Gitanes" were (are) a brand of very strong French cigarettes - with a gorgeous "dancing gypsy" as a logo. It was widely used in advertising - all the way up to Formula 1 sponsorship.
The Gitanes logo really was iconic in the 70s and 80s - American singer and guitar player JJ Cale even produced an album cover inspired by it (and it is a great album, too).
About the actual cars, the Renault 4 Van was already featured in a previous French Friday. The Citroen H Van was to the French what the VW Bus was to the Germans - a bare bones commercial vehicle based on car parts.
The engine and gearbox came from the Traction Avant. The corrugated sheet metal was inspired by Junkers aircraft design, and added strength without adding weight.
The Van was produced from 1947 to 1981 - largely unchanged. About 470,000 were produced over these 34 years. A good one will cost you a lot of money these days!