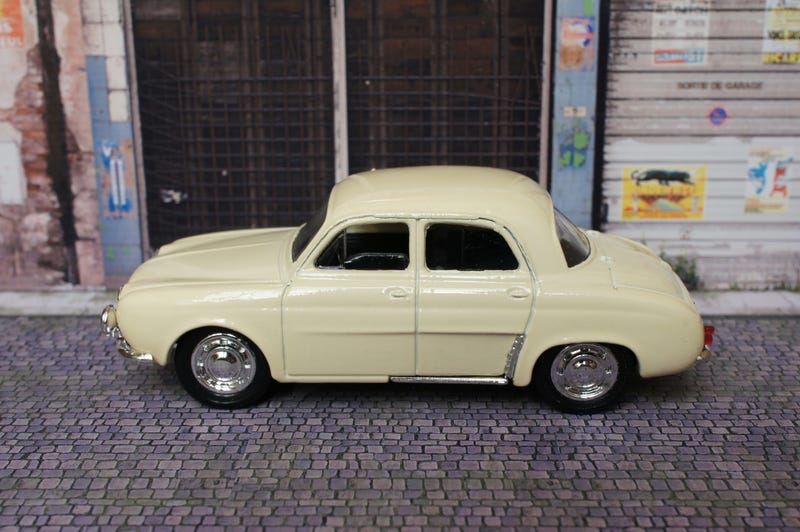 Why Renault used a title belonging to the wife of the heir to the French royal throne for one of their cash cows is beyond me. Story goes that management of Renault stated 'the 4CV is the Queen of the road, the new arrival can only be the Dauphine.' And registering the name was just in time as Citroën's Rober Opron had wanted to name the Ami6 'Dauphine' as well. This successor of the Renault 4CV was a big hit for Renault with over 2 million units sold from 1956 to 1967.
And, named 'projet 109' or '5CV' during development', it's a properly developed car. Renault really managed it well: a completed survey amongst potential customer's showed what demands for the car should be (110km/h top speed, max 7 liter/100km fuel consumption, four seats. And that wasn't all, Renault found out that women didn't actually cared for the car, as long as it was available in nice colors it was all 'go!'. So even a female artist was added to the development team: Paule Marrot.
And instead of using all shades of grey and black the competition was using she came up with all kinds of vibrant colors like Rouge Montijo, Jaune Bahamas, Bleu Hoggar and Blanc Réja. Interior-colors were influenced as well. The car featured today is in Blanc Réja.
After the 4CV it was a real 'ponton'-styled 3-box design with 3 boxes: one for luggage, one for motorization and the biggest off course for it's 4 passengers. It had a 27hp 845cc engine in the back, like that 4CV had, although slightly increased in displacement. But for the French gearheads the sorcerer, Amédé Gordini, had developed a sporty edition, the Dauphine Gordini. This one had increased power with 30% resulting in 36hp. And a 0-60 time of... 30 seconds. I've mentioned Gordini before on French Friday some of you may remember.
The engine in the back was getting really common in the late 50's. This rear-engine trend was led by Volkswagen, Fiat and Renault whereby the rear drive/rear engine configuration had increased from 2.6% of continental western Europe's car production in 1946 to 26.6% in 1956!
And the Dauphine wouldn't be the last one, that honour would go to the R8/R10. The model displayed today is a Solido 1/43. And as you can see with the more focused shots: that paint isn't particularly good. All details seem to be accurate, there's even chrome trimming.
There's even a little paint-bump/blister on it's roof so finishing isn't that good. But a French car without decent rally lights is no good so Solido luckily mounted them on it's front bumper.
And of course this Solido came in a blister and a box as well. This era of cars is actually just before the era my real interests are in but I got it with a bunch of other Solido's so it's a nice addition in my collection of French 1/43s.
Well, that's it for today as I'm heading for a final meeting with my contractor regarding Phase I of the reconstruction of my house. As the Dauphine isn't that sporty, not even that Gordini, I'll have to make up to you next week on the performance-part.
Not sure yet which one I'll display though but I've got quite some days to come up with that one. Keep safe and enjoy your weekend!