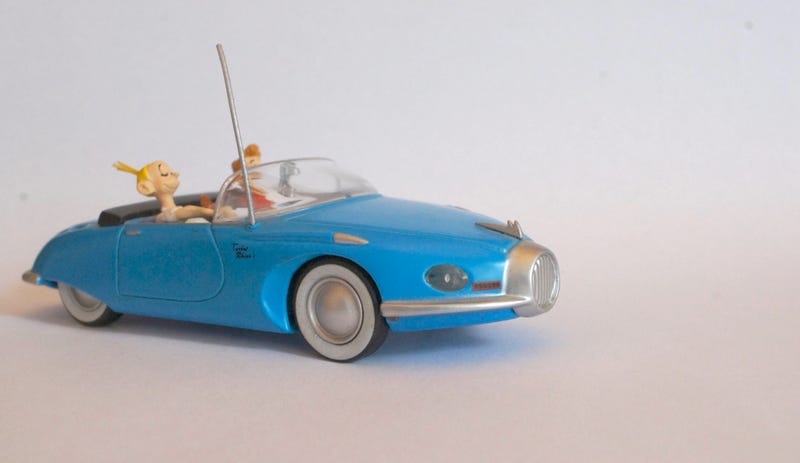 A few weeks ago I shared a fantasy-car with you and I guess I mentioned that's the only fantasy-car I'd approve of somehow. But this has changed. There are several comics in France from which cars and figurines have ended up in the specialized toy-stores. 'Tin tin' is one you all know but 'Spirou et Fantasio' is another one of those Euro-comics I adore. And the second comic artist working on Spirou (there have been 7 different artists - or even teams of artists - working on stories since 1938) was kind of a car-nut: André Franquin.
So every episode was filled with the newest real-life cars on the market and Spirou, who was a reporter, drove everything. From an R5 to a Lotus Europa. And he made a few designs of himself, mostly from the 'Turbot'-company. And the car you see here is Turbot's first attempt to create a stylish convertible with the well-thought name 'Turbot Rhino I'.
That "Rhino"-part probably came from the name of the adventure it showed up in, 'La corne de rhinocéros' (The Rhinoceros Horn). In this adventure Spirou and Fantasio team up with a racecar driving friend who's company has developed such a revolutionary car the competition is willing to do a lot to steal it's plans. To prevent this the team goes to lots of places, amongst those places Africa. And then some Rhino is involved.
After all ends well Spirou and Fantasio are given the first prototype of the factory to thank them. And it wasn't the last time 'Turbot' appeared in the comics, neither was it a first. Some years before Spirou entered a Grand Prix in one and a few years later the 'Turbot II'. The 'Turbot II' was a result of a drawing competition in which readers could send in their designs.
In 2006 Atlas introduced 24 1/43 cars from the series. All of those actually real-life cars (with the exception of the 3 Turbots), some English, some German, some American. But most of them, of course, French. Like this 2CV from the series that I've got as well.
Each car comes in a jewel-box on a stand, with a background from the comic it came from. Looking like this.
It is said that Franquin (who actually wasn't French but Belgian - the Spirou series is French though!) was heavily influenced by the 1953 SOCEMA-Grégoire. This Turbine-driven (perhaps that's where the name 'Turbot' came from in the first place) coupé really resembles a lot, just look at it.
That one is in the Le Mans Musée nowadays if you want to check it out. But that's not the only 1:1 that looks like the Turbot. You probably heard before of the wicked designs of Franco Sbarro. And he made a one-of Turbot 1!
There's not much info on this one, the above picture is on a Franquin-exhibition in the Bruxelles car museum. On the poster in the back it's clearly stated that the car has a "Turbopropulseur", whatever that may mean in a car. But hey: It's still 1953 we're talking about.
Best car from the series, for me, would be the yellow BMW 700 but the guy I got these from just sold his 700.
There's a small certificate that goes with each car. In this certificate some extra information about the car is given, the SOCEMA-Gregroire is mentioned there as well.
One thing I never really understood about Spirou was his outfit. He always wore the clothing of a bell-boy. But he was a reporter. Let's just say it's a French thing... Next to Fantasio there was another side-kick as well: Spip the squirrel. And the Marsipulami was a supporting character as well: A wild beast the guys found in a South-American jungle.
There have been several translations so far but it's not completely available in English. Officially just no 15 ('Z comme Zorglub') was translated but some Indian company translated Spirou for the Indian market in English. Cinebook, an English publisher, started to publish English translations a while back, not sure how far they are (there's plenty on Ebay!). So maybe you should just try one. If you're into Euro-comics that is.
Je suis là la semaine prochaine semaine! La semaine d'après ce que je suis en vacances et je suis off-line. Bon week-end!