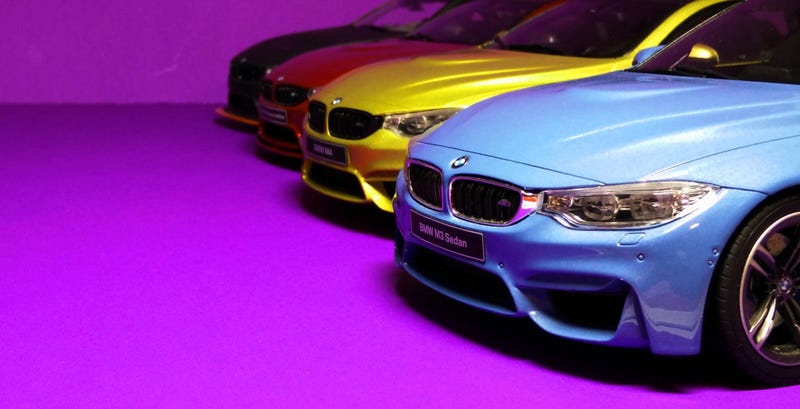 We've made it to the end of the week, so here's a quartet of ///M-cars to celebrate.
The one that receives the M3 name is the F80 4-door, presented here in Yas Marina Blue by GT Spirit. No surprise here that this is my favorite of the four models today; the presence of four doors creates a more balanced and proportionate shape, in my opinion.
The coupe, however, now goes by the M4 moniker, which creates a disturbing discontinuity in BMW's iconic M3 line. Nonetheless, we all know it's the same thing. Shown here is the M Performance Edition in Sakhir Orange, also done by GT Spirit.
The Austin Yellow M4 from GT Spirit makes its first appearance on LaLD and is the most recently released version. It's got the upgraded, larger (and uglier) ZCP Competition Package wheels from the M4 GTS, but I was sold on the model because this is my favorite color for this generation.
Lastly, the beast itself, the M4 GTS. This one is produced by Sophiart and is also a sealed resin model like the others.
And that's it! Shifting to something different for tomorrow...