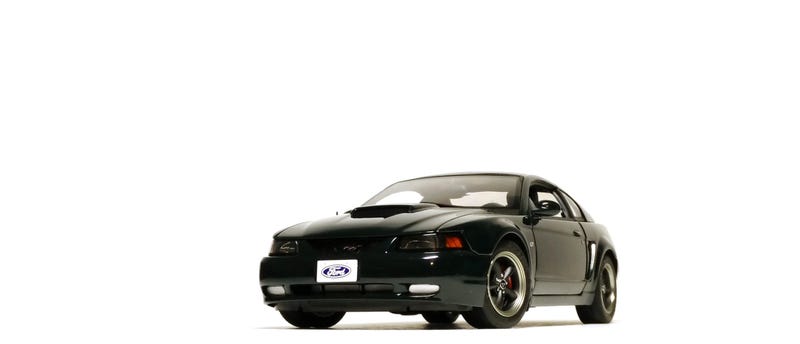 I have a real treat for you guys today. Feast your eyes on the ugliest Mustang ever.
"But if it's so ugly, why would you buy it?" you ask.
Something something about the color and the wheels. That's about it. Oh, and it was a pretty nice deal too.
For $60 shipped, I picked up this AUTOart 1/18 Ford Mustang GT "Bullitt" since sir Sn210 apparently had more self-control than I did. Unfortunately for him, I crushed his hopes of ever owning a pristine two-owner Bullitt 'Stang for cheap the moment I broke off the right-rear wheel. I ended up accidentally giving this pony some positive camber in the back with my shoddy glue work. Krazy glue is extremely brittle, so I can always rebreak it and reglue it. But the car was an eyesore to begin with, so it makes no difference.

I gotta admit, it's a pretty nice looking model despite this being the ugliest-generation Mustang ever built. American Racing Torque Thrust wheels look great on anything domestic, and they really save this car. Overall detail is good for its age, and AUTOart sticks with its tried-and-true formula of getting all the proportions right.
The interior - drop-dead gorgeous. I mean, check out all that grey plastic. The curvaceous dash. The amorphous steering wheel. So beautiful.
In any case, I hope this brightened up your day. I'm out.