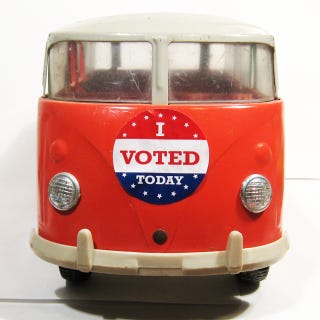 And exercise your right to HAWL! But, please, vote first.

After deciding the fate of my county, I went hunting. Note: There is no constitutional obligation for the other "hobbyists" to leave anything on the table, er, pegs...greedy bastards...

That 007 Mustang is going to be very popular around this work bench, and just may be in pieces by the time you read this.
Oh, and this...
While Zingers are necessarily cartoonish by design, this one really carries the JL/Zingers flag!
A Plymouth Superbird, with Buick port holes in the fenders, a total of six exhaust pipes indicated by tampo, but only firing on one cylinder?
I guess they're just wingin' it...?
See, this is why my comments don't fly on kinja blogs, they can't handle the raw humor of my puns..
Superbird totally up for re-homing...