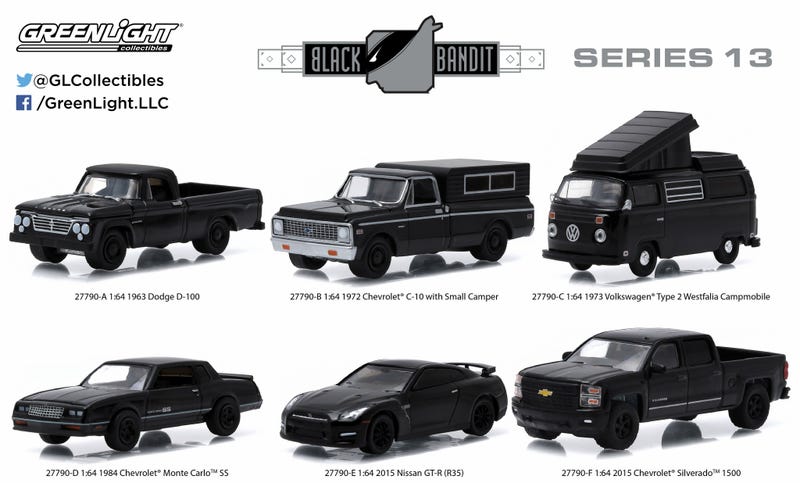 With respect to ZAMACs, Autoworld's UltraRaw, and even Greenlight's own First Cut, I'm a bit burned out on casts that, well, haven't been painted. The Black Bandit Collection goes the other the way of course. This seems to be a fairly solid release, with that GT-R definitely catching my attention.
Here's the standard red one for comparison:
1984 Monte Carlo SS
And the 1972 C-10 with camper (I'm a sucker for the camper trucks)
Also related, though not part of this release, is the 1986 Boulder RV getting the Black Bandit treatment
Due to the popularity of the '86, a 2016 model has been released as well.
It too will receive the Black Bandit treatment.
Finally, for those of you who do enjoy the First Cut treatment, here's the '86:
Although I haven't seen the 2016 version sans paint, it is a good bet there is one of those in the pipeline. The Black Bandit RVs and First Cut will be Hobby Store Exclusives.
I usually just post photos with a comment or two, but I'm feeling the need to go on a minor rant here. I've been a champion of Greenlight for quite some time. When I was first trying to establish relationships with diecast companies they were friendly and willing to actually answer questions. Most others (ahem... M2 .... just added me to their e-mail blast, and then balked when I asked the simplest of inquiries). Greenlight is also an extremely small company with just a handful of employees and clearly an underdog when you consider the behemoth that is Mattel.
But.... they are still dogged by quality control issues. I can't write one of these posts without hearing in the comments about diecasts that barely roll, chintzy components and other embarrassing problems. My own experience with Greenlight models is that they have a tendency to fall apart once removed from the package. A Ford Bronco came with a sagging rollbar. The hood on the 1967 Chevy Impala that pulls an Airstream trailer no longer sits flush with the car and the tow hitch broke almost immediately, kind of defeating the whole point of "Hitch & Tow". A $20 1/43 Mk1 Escort has broken off 3 of the 4 mudflaps. These are just my experiences, and I was mostly just removing them from the packages to take pictures. Certainly Hot Wheels has a large share of issues too, but the premium GL requires makes these sting a bit more. Those Black Bandits (not the RVs) cost $4.99-$5.99 and are as basic as they come. Hopefully this means they have almost nothing to break, I suppose.
It's neat they offer Hobby Exclusives, such as the First Cut and the Black Bandit RVs, yet for me I can't find GL models outside of TRU. Greenlight's website will direct you to a list of Hobby Stores that carry their products but the list is laughingly short and missing some very key information that would seem to be obvious, like where most of them are even located. Besides the dreaded "TRU tax" I have to make significant trips to the suburbs to find even a handful of offerings. I also question the logic behind offering Hobby Exclusives with the Chase "Green Machines" mixed in. Unlike a traditional retail outlet where Chase cars are mixed in to be discovered by customers, Hobby Stores know what they are looking at and price accordingly. This defeats the purpose and fun of Chase cars entirely.
Not all these are fully Greenlight's fault, but some simple steps could be taken (like adding addresses of their retailers) and yet these continue to go unaddressed.
I'm curious to know your thoughts. Am I being too hard on them? What are your experiences with the company? What are your feelings on Greenlight? Please let me know in the comments.