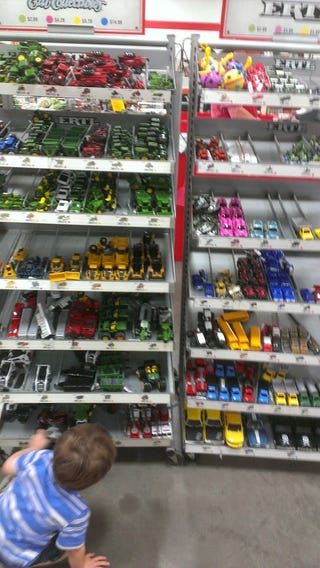 So a while back, zeontestpilot visited Tractor Supply and reported the presence of diecast.
Today, I went to see for myself. First thing when you walk in the door, there they are. At this store there was a standing display with Ertl/Tomica stuff on one side and Schleich animals on the other side then some larger diecast and big plastic stuff against the wall.
Also, the back of Child 2B's head.
Lots of stuff that wasn't there anymore...
And there's Child 2A.
So on the Ertl/Tomica display, some stuff had Ertl hangtags, some stuff had Tomica hangtags. And some stuff was Johnny Lightning, but had Tomica tags.
These are clearly Tomica. The bus and firetruck were all sold out.
Hey look, some nice 1:18 cars. Also, some random body parts.
Huh, how 'bout that.
Had to bring home this one, because Yoshi.
This one was the only one and it had a handwritten tag saying it was $0.49. It's a JL. I'm not an idiot. It came home with me too.