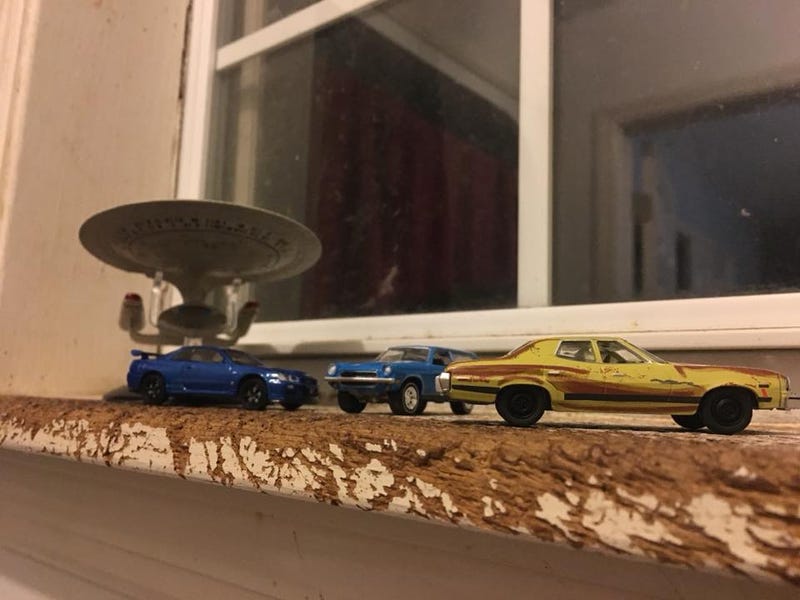 As I go around to various stores searching for the latest and greatest from our favorite brands, I stopped into Toys R Us today to see what I could find. While I couldn't find what I was exactly looking for, I did find three fantastic models to talk about, plus a special guest from a newly arrived thing.
First up from Greenlight comes one of their newest casts, the 1/64 Nissan Skyline GT-R R34 from their Tokyo Torque line. I was particularly excited for this, as I remember when Greenlight hosted a poll on their Facebook page to vote for a new cast, and I distinctly remember voting for this to win. Nevertheless, it's finally here, and I love it.
Good, high quality casts of Japanese sports cars were really hard to come by until recently with the advent of M2's Japanese lines and Hot Wheels's Japan Historics lines. There was once a time where the only way to get models of this ilk was to import expensive Tomicas from Japan. While these models may not sport the same detailing and quality as a Tomica or Kyosho cast, I really have to say they're a decent substitute for those not wanting to pony up the $50 odd dollars for a Japanese cast. I hope to see more of this genre in the future.
Next is Greenlight's 1973 Ford Gran Torino from The Big Lebowski. There's not much to say about this one besides the fact that it's a cast from my favorite film of all time, which led to me immediately grabbing it upon the first glance.
The cast is good, but it reeks of familiarity, as it's a modified version of the already existing Gran Torino cast from Greenlight. What sets it apart though are the details in the paint, giving a nice rusty and old look to it, which really kind of makes it stand out amongst the rest. It's something I've loved Greenlight for doing in the past with their Spy Shots line and others. If you like this style or love the Big Lebowski, you'll love this. F****n' A.
The final car on the list is Johnny Lightning's Chevrolet Vega wagon. Like the Gran Torino, there's really not much to say outright, except that if you know me, you know how much I love Malaise era cars, hence the immense need for something of this ilk.
And yeah, I love this little thing. It's got a phenomenal old-fashioned nostalgic feeing to it. It harkens back to a simpler time of Magnavox Odysseys, The Spy Who Loved Me, and the Oil Crisis. I love Johnny Lightning's dedication to making casts from this era of cars and am always looking out for new stuff.
And now for something completely different...
"Engage..."
Say hello to Eaglemoss's USS Enterprise NCC-1701-D model.
After becoming a more hardcore Trekkie late last year, this model has been on my list for a long, long time (because Picard > Kirk) and I finally bit the bullet and bought it last week. It got here surprisingly fast so I decided I'd go ahead and include it, and god I love this thing.
Everything about it is just so well-done it's almost insane. Eaglemoss is a company that's always perplexed me with their unique but fun choice of things to model (you should see their James Bond collection...who wants a 1/43 model of a GAZ Volga?), but was skeptic about their quality. Luckily I'm rest assured because this Enterprise is a masterpiece. The detailing all over is phenomenal and it makes such a beautiful desk display. I want more...but that will have to wait until next time.
So yeah I'd say this is a pretty successful haul for the day. Modest, but it's greater than the sum of its parts. Until next time, let's see what's out there...