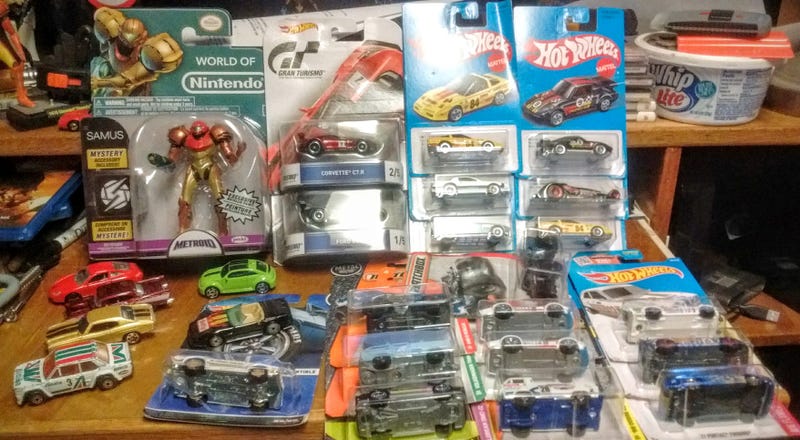 We're out of potatoes, so I grabbed a wrinkly orange from the fruit bowl and took some pictures (actually, I quite like the camera on my phone, but the lighting in my basement Fortress of Solitude leaves something to be desired).
I had a long dry spell, but thanks to some HWEP action and some fortuitous finds over the past couple weeks, I am feeling fulfilled in a diecast way.
After a long time of looking at Wave 1 pegwarmers, I finally scored some of the recent wave of Target Retro cars, and also grabbed the 2 from the premium GT6 line. I kinda liked the looks of those fantasy casts, but they might be custom fodder or something, we'll see. Mostly, I was glad to snag the Corvette. I've talked at length about this casting before, so I won't get into it, but it's a top-notch deco so it was a must-have. I know I was commiserating with somebody recently about not being able to find it, so I grabbed an extra. If you need one, hit me up.
Various mainline stuff. Glad to find the new Corvette Racer. The first one had some minor paint issues, so I bought another. Very glad to have the A100 as that was the last of the Heralda set that I needed. It's a good deco and a cool story. Grabbed an extra GHE-O because I love that casting so much. Found the DMC-12 at a Half Price Books randomly...so 80's-tastic. I decided I need a diecast clock, so I've been amassing cars with numbers on the hood or roof, hence the Escort and Lancer.
On to the HWEPs:
From philipilihp, the Cutlass pace car was at the top of my list of RR's that I needed but couldn't find, and the C4 convertible is under-represented in my Corvette lineup.
And from vdubyajohn, the vintage MBX Fiat racer that I coveted, as well as a minty-fresh First Edition '70 Chevelle and a cool Racing Champions Bel Air. The Beetle and Ferrari were included as a nice surprise.
Thanks guys!
I forgot to take a separate picture, but you may also notice the Samus figure in the top pic. In my quest to find the recently released Gravity Suit version of the figure (which should be coming in the mail today), I discovered that there was a metallic paint version (some con exclusive or something). I have the basic figure from a year or 2 back (you can actually see a part of that figure in the top left corner) and it's a pretty decent sculpt, but the paint leaves a lot to be desired, so I immediately needed this version (it can be acquired for an acceptable price from Amazon). The paint application is a little sloppy, but it's still a nice improvement.