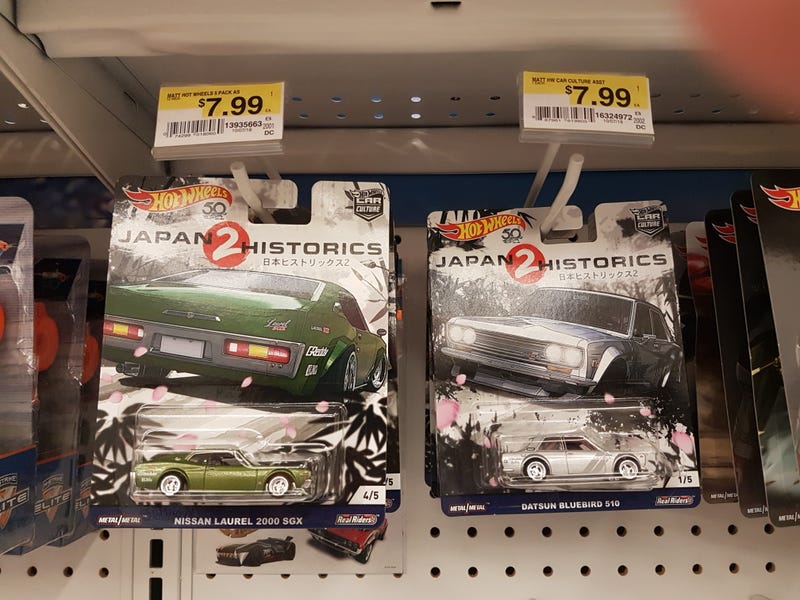 So I started a new commute this week where I spend over 3 hours a day on the road. But that also brings me to a different area where people are well-off and far less likely to scalp diecasts than my neck of the woods. Here are some interesting finds this week:
So with my first day, I wanted to make sure I wasn't late. I ended up going a bit early and ended up 45 minutes early because the traffic hadn't kicked in yet. There's a Walmart down the street from the office so that's where I decided to go kill some time. I ended up finding my first 2019 HWs release (the Integra) and also a few pegs full of Johnny Lightning releases, including three of these Tropical Blue Civic Hatchbacks.
Here's a better photo of the Civic:
Also saw some JL Brown Econolines that I took a picture of as a joke that brown Econolines (HW 50th Favorites) are are all over the place. Turns out the fellow LaLDer I wanted to joke to actually really likes it so hopefully it's still there when I head back on Monday (which I think will be likely since I saw it on Wednesday).
I went back to check after work and the other two Civic Hatchbacks were gone. I did see my second Zamac in the wild though but I passed.
Also saw this for the first time, though I didn't buy it either.
There's also a hobby and crafts store in the area. Since my lunch time is flexible, I went to check it out. $7 but with 50% off coupon? I'll take it!

Then there's also another hobby and crafts store in the area. I'm sure these have been warming the pegs for a while and I consider this the best retail find of the week. Only one piece was missing from the case but I was happy, I finally found the JH2 510 in the wild!
$8 but with 50% off coupon, not bad! But almost all the blisters from this case were busted. I got it for DLM, as well as the C210 Skyline, and will pick up the rest of the set day-by-day with the coupon when it's available again (which is currently a 25% coupon).
Also checked out one of the Targets nearby. It was mostly fantasy castings but I did see something I hadn't seen before.
There was also a regular T-Hunt hanging right on the front of the pegs. Didn't end up buying anything at Target
The commute isn't ideal but I'm liking where I am so far. Won't be able to spend as much time on LaLD but at least I can afford a lot more diecasts (hence the Tomica Bonanza splurge).