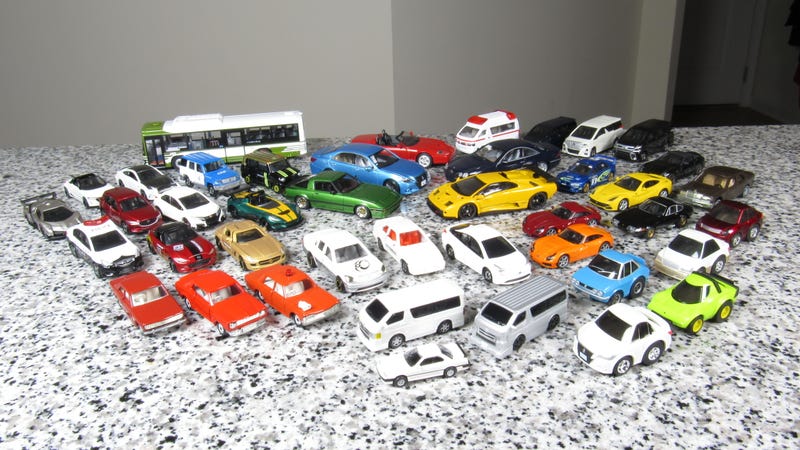 Japan is amazing. I returned home from my trip late last night and have been unpacking and going through my finds today. For now I am just going to post my finds, but you can expect more on die-cast hunting in Japan in the near future.
It's a blessing in disguise that one can only bring so much die-cast with them on a commercial airline flight. I could have easily spent waaaaay too much money had I not had space constraints. Here is what I found that I thought was either neat enough to come home with me or too good a deal to pass up. Unfortuantely, I decided not to do any 1/18 unless I found something really special, and that didn't quite happen.
Note that 1 JPY is about $0.009, so 100 JPY is about 90 cents. You can essentially take any prices I mention and divide them by 100 to get the amount in USD.

First up, some cars from gachapons. Gachapons are vending machines that dish out randomized toys from specific assortments. The vans were from a Toyota HiAce assortment that featured a single 1/80 scale casting with different color and wheel variations. These are all plastic and feel pretty cheap; they weren't a fantastic deal at 300 JPY. They are made by a company called Beam Tokyo. The Skyline, on the other hand, is done by Kyosho and is actually metal with rubber tires. It was also 300 JPY and a killer deal by comparison, even at 1/100 scale. The assortment also featured multiple Skyline models.
Next up are the Choro-Q cars I picked up. I know these aren't super well liked by everyone, but there is a charm to them. Quite a few that I found were over 1000 JPY (some of them way over), but these were cheap and interesting enough to come home with me.

Now it's time for some Tomica. The current basic range cars were easy to find at retail between 350 and 450 JPY. Some of the older ones I paid...substantially more for. See if you can spot the Siku the snuck in this section!
Tomica Shop exclusives:

These 30th anniversary reproductions were found at a second hand store and came with boxes. They totalled 400 JPY for all 3. They are not originals but that is still a killer deal- the Crown fire cheif car even came with a perfect sticker sheet!
This Suzuki Hustler (yes, that's what it's called) came from a fire station themed blind box. I have no idea how the vehicle or livery references Japanese fire stations, but there you go.
The last group of Tomicas are a few late model Toyota vans. I saw these larger vans all over the place everywhere I went. They are overstlyed and just looked wild to my American eyes, but in a good way, so some Tomica models of them came home with me. Unfortuantely they don't quite capture the craziness of the 1:1s, but they come close.
Next up, a Tomica Limited Vintage Isuzu Erga in Hiroshima Electric Railway livery. Hiroshima Electric Railway primarily runs streetcars/trolleys in Hiroshima, but they also have busses.
Last of the 1/64s, these Kyoshos and CM Subaru were steals. The Ferraris were between 600-800 JPY each, the Sagaris 800 and 1000, and the Subaru 800. The shop I found the TVRs in did not have a blue one, but fortuantely I already have that one!
Now for the 1/43s. This ixo Ferrari 550 Barchetta was found second-hand for 1000 JPY. ixo isn't the best, but this just bumped me over the tax free threshhold at the store it came from, so in the cart it went. Interstingly, the bottom of the box has a Hot Wheels logo on it and legal text referencing Mattel's infamous Ferrari license from the mid 2000s. I believe this car predates any Hot Wheels 1/43 Ferraris, so Mattel may have been experiemnting with sublicensing this scale before deciding to produce their own.
This Minichamps C215 Mercedes was too cheap to pass up. I love this body style and did not have a model of it prior to this one. Unfortuantely it has some paint issues.
I have an absolutely irrational obsession with the Toyota Crown, and this bright blue Athlete version from Kyosho was just too nice to pass up.
Another Kyosho, this Diablo GTR has a trick that you don't see often in 1/43.
Finally, the pièce de résistance- an Ignition Model Mazda RX-7. At 16,500 JPY, this was by far the most expensive car I purchased on the trip. That's probably on the high side for one of these, but how many times am I going to have a change to buy something like this in Japan? This one is resin and has no opening parts, but it is exquisite. I'll most likey be giving it its own feature soon.