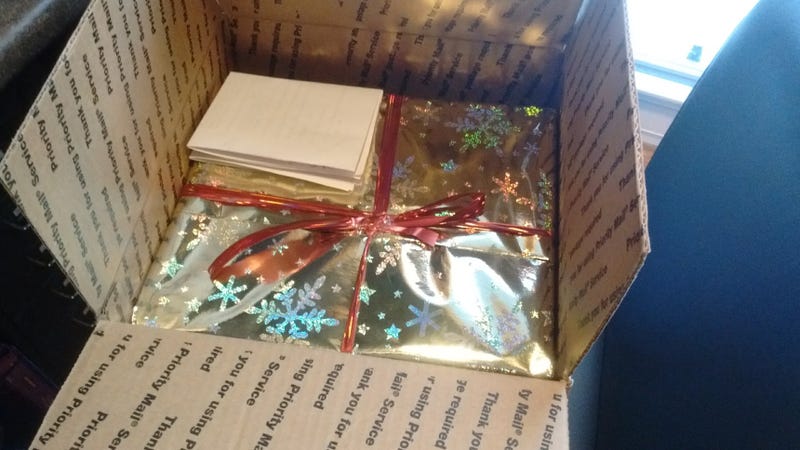 I've been remiss in posting these in a timely manner as all of these arrived before Christmas. But we're coming off the Christmas craziness and the house is quiet for once as it's just me and one child at home at the moment, so I am seizing the moment.

The pic up top is my Secret Super from Eddie. He went above and beyond and actually wrapped the thing.
Slightly disappointed at this point because I don't drink coffee. Hopefully Eddie understands.
Nevermind! Eddie brought the Corvette goodness. On the bottom is a friction powered C6-R. I believe this is the same one that shop-teacher acquired many moons ago, which has been kind of staying at the back of my mind as something to watch for, but I've never seen it. On top of that is a Maisto C1. This was also an excellent choice because I have the custom version of the same casting (as near as I can tell, the diecast metal parts are the same, but many of the plastic parts are different - I may do a comparison in the near future depending on life) so I'm very pleased to have the pair. I really like having stock/modified pairs of cars. On top of that is a nifty Chevy NASCAR with rolling toolbox thingy (because I'm weird, I'm at least as excited about the cart as the car).
Next we have a HWEP with LtotheG. My access to new single MBX has been very limited lately, so I was unable to get my hands on the police 'Vette. I also have not seen the Target Reds, so I was quite happy to get all of these. THe Miata was a welcome RAOK.
Finally, we've got this very interesting RAOK from navyeagleeye86. Due to my interest in MBX King Size, he'd mentioned that he had this cement mixer that needed a little TLC, but then sent a bunch of other goodies with.
One of my sons is kind of obsessed with this truck. It is very cool. There's a gear mechanism that is supposed to spin the mixer thing when the middle wheels turn. It works, just not very smoothly due to some corrosion on the axles. But it has loosened up just with me playing with it, so I think if I take this apart and clean it up, it should be quite possible to restore it to smooth functionality. The biggest challenge will be finding tires. My initial thought was that the wheels are almost exactly the same diameter as a style of Lego wheels, which they are, but they are narrower and have a shallower groove than the Lego wheel so it's not an exact fit. I may still be able to modify the Lego tire to fit, or I may go a different route. I'm open to suggestions. The patina is awesome and this is not getting a repaint.
The other vehicles were definitely kind of random, but I wanted to pull out these 3 for some extra attention, because I already wanted them. The '32 Ford delivery is one of my favorite castings ever since I got one as a kid so I'm always happy to have another. I didn't actually know I wanted the '56 Ford because I didn't know about the casting, but I kind of treat sedan deliveries and panel trucks as proto/honorary station wagons, so I include them in my long-roof collection. Finally the Convoy Custom is just cool (I like big trucks and I cannot lie).
So a big thank-you to these three LaLDers and a shout-out to everybody who makes LaLD one of the most excellent places on the internet. It's been a pretty sucky year generally and I've been dealing with some personal crap too, but it always helps to take a few minutes to look at toy cars and see folks being happy for other people. Keep being awesome and here's hoping that 2017 brings everbody big hawls of little cars.