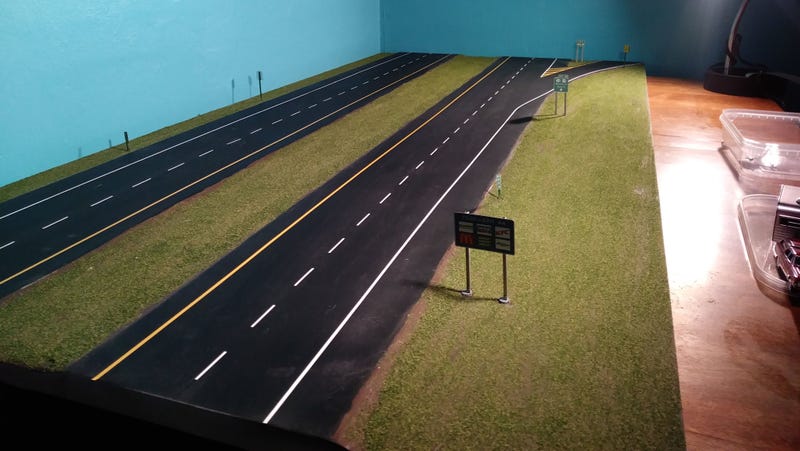 I finished making and installing the last of the signs on my Twitch stream last night. So the diorama is done.
I'm really happy with how everything came out, and in the end I think it looks better than I expected.
As a reminder, the base is MDF, with the roads made from luan plywood (I would have used MDF, but Lowes was out of the 1/4" stuff). Then the dirt shoulders were shaped out of Bondo.
The whole things got two coats of Killz spray primer, then the roadbed was painted with spray Rustoleum flat black. The shoulders were painted with craft paint, then the whole thing got two coats of matte clear lacquer.
The grass was glued down with white glue, then got more matte clear lacquer to help keep it stuck down.
The signs are images I found online, scaled to correct size by Vdubyajohn, printed on decal paper and put on thin tinplate steel. The posts are square brass. The single-post signs have a small section of larger post sunk in the base that they slot into. The "concrete" bases of the two-post signs are neodymium magnets, so the signs stick to them via a small piece of the steel wrapped around the bottom of the posts.
You will be seeing a lot more of this diorama, as I've already started filling it up.