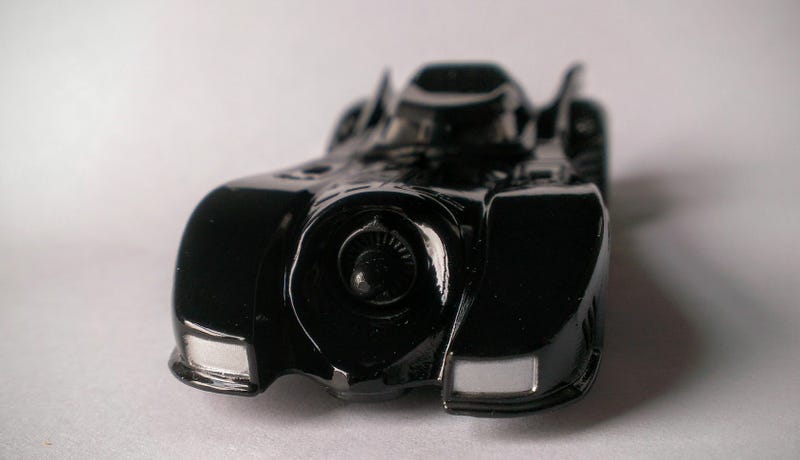 For those of you who put up with my mystery picture earlier, I apologize. I did not wake up this morning and decide to be evil, but I was taking pics and thought the cockpit picture was kinda cool. I wasn't sure I could crop a picture of the exterior in a way that would not immediately give away the answer due to the iconic nature of the car.
Anyway, it's the '89 Batmobile that is currently on pegs along with other 1:50ish Bat-vehicles. I was tempted by the '60's Batcycle and Batboat, but settled on this one. What I really want is a 1:50 '60's Batmobile, but that is inexplicably missing from the current series (what's supposed to tow the Batboat's trailer?).
Although the Barris Batmobile will always be my favorite Batmobile, this was THE Batmobile during a good chunk of my formative years, so I'm still pleased to have it, particularly once I got it home and DLM'ed it.
Despite being an extra-premium car, it has a plastic base, which is somewhat disappointing, but otherwise I'm very pleased with the quality and detail of the model.
It's not like there's a whole lot of deco going on, but what's there is good.
Of course, this model shows every speck of dust.
That canopy slides forward to access the cockpit, which is nicely detailed.
The one somewhat puzzling thing about this model is the chromed wheels.
It's not accurate, and the back of the package shows the model with blacked-out wheels (maybe some red accents - don't remember for sure and don't care enough to go downstairs and find the card).
That issue aside, it's a fantastic model for the price. The slight increase in scale allows for a very nice increase in detail.