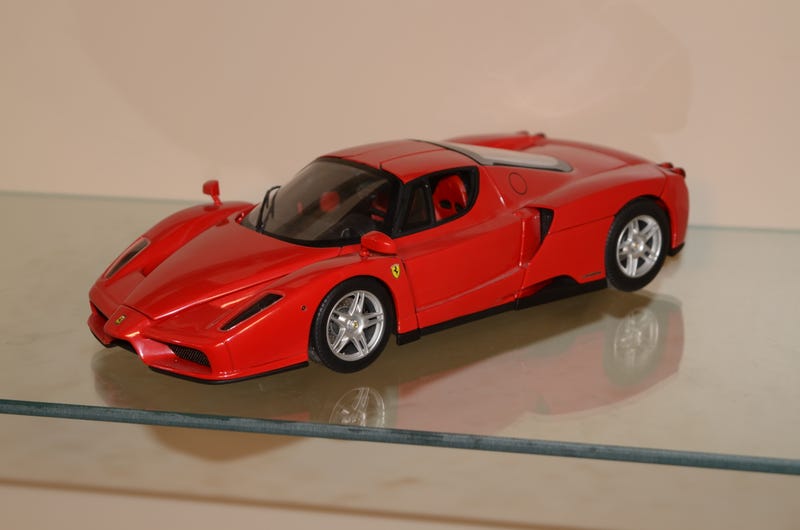 Confession: I think the Enzo is a pretty ugly looking supercar. 15-year-old me was too blinded by the performance figures and crazy doors to care, but now I'm struggling to appreciate Pininfarina's design.
The doors don't stay up on their own, so I had to wedge a wooden stick inside the hinges for this photo.
Just like the 599 GTB Fiorano, the Enzo has a custom suitcase that fits inside the frunk.
The interior looks great, especially with all the leather-texture plastics. Unfortunately, the crazy doors make it near impossible to get an iPotato inside for a decent photo.
This is the only model I've ever owned that came with a built-in support rod to hold open the engine cover. it just rotates down flat behind the suspension when you close the engine cover.
I think Hot Wheels really outdid themselves on this engine bay. The depth and colors are fantastic, and there's an overwhelming collection of wires, suspension coils, carbon fiber appearance plastics, etc.
Here's a problem I've found with Hot Wheels Elite models: the glue securing the clear plastic degrades over time. I've had the same failure on both the Enzo and 575M Superamerica. The Superamerica became unglued after about 5-6 years of living on my display shelf, and the Enzo only became unglued after 10 years of ownership.
You can see the dried yellow glue along the top/bottom of the window opening. I'm sure there's some simple glue that will fix it easily, but I've never bothered since they sit inside a glass display case anyway and no one (except for all of you guys) will know.