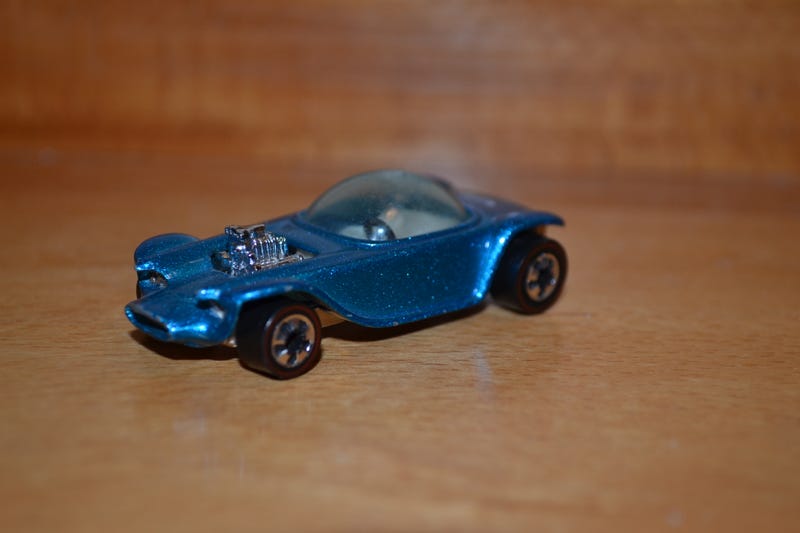 In 1994, Hot Wheels released a series of eight cars, known as the Vintage Series. Each of these cars was a retooling of a popular car previously released in the company's early years, and served as a continuation of Hot Wheels' 25 anniversary celebration.
Today, we look at the Beatnik Bandit:
Beatnik Bandit was originally part of the original 1968 Hot Wheels releases. Beatnik Bandit is another example of a car that has its origins through the work of a skilled customizer and fabricator.
Ed Roth, also known as "Big Daddy", was a pioneer of the "Kustom Kulture" movement of the 1950s and 1960s. "Kustom Kulture" refers to the style of artwork, vehicles, and fashion of those who built and drove custom cars starting in the 1950s. Ed started his career as an artist and painter, and branched out into customizing shortly after. At a young age, he used his artwork as an escape from the bullying he experienced. Ed was the son of German immigrants who only arrived in California during 1928. He was harassed a lot by his classmates during the height of WWII. At this point, his artwork was heavily influenced by the events of WWII. His focus shifted to cars by 1945, however, since he was quickly approaching driving age. He bought his first car, a $350 1933 Ford 3-Window Coupe, and wasted no time racing and fixing his new ride.
Ed was significantly involved in the custom scene during the 1950s. In addition to building custom hot-rods, he continued to work on his artwork. It was during this time that Ed would create some of the most famous hot-rod graphic icons, including Rat Fink. It was in 1960, however, that one of Ed's most famous customs would appear.
The first designs for Beatnik Bandit originated in 1960. The design for the car changed several times during its construction. The car itself was based on a shortened 1950 Oldsmobile chassis. It featured custom fiberglass bodywork, and the iconic Plexiglas canopy. In order to form the canopy, the Plexiglas was heated using a pizza oven, and then blown up like a balloon to achieve the "Bubble" shape. All of the controls (gas, brake, steering, and shifting) were operated using a chromed central stick. It looked and behaved like a cross between an airplane stick and the handle of a child's wagon. As a result, this car was trailered to every show. Power was provided by an Oldsmobile engine featuring a Bell Auto Parts supercharger and twin Ford carburetors.

After Ed completed the bodywork on Beatnik Bandit, he brought it to Watson's House of Style for a paint job. Unfortunately, Ed did not have the required funds to have the car painted as he envisioned. Undeterred, Ed made a deal with Larry Watson, the shop's owner. Watson could take all the time he needed to paint the car, and would be paid in Rat Fink t-shirts.

Mattel gained permission from Ed to use Beatnik Bandit as one of the first sixteen models for their new line of small diecast cars. The actual Hot Wheels diecast was designed by Harry Bentley Bradley. The diecast remained true to the original car on which it was based, with the exception of a steering wheel being substituted for the unique stick control. All said, Beatnik Bandit was a wonderful choice for one of the debut models for the Hot Wheels line.

(Source)