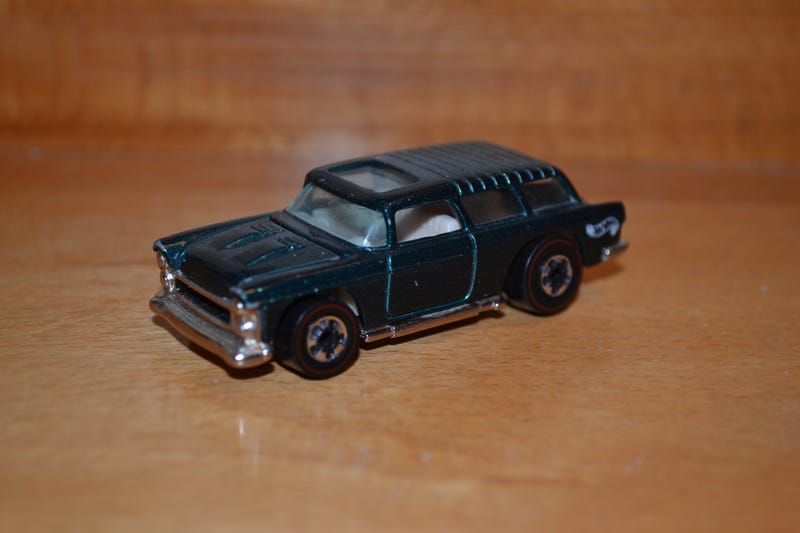 In 1994, Hot Wheels released a series of eight cars, known as the Vintage Series. Each of these cars was a retooling of a popular car previously released in the company's early years, and served as a continuation of Hot Wheels' 25 anniversary celebration.
Today, we look at the Classic Nomad:
The Classic Nomad was originally part of the 1970 Hot Wheels releases. Unlike all of our previous pieces so far this week, this casting was almost entirely based on an actual production car.

The Nomad was the idea of Harley Earl, a designer and executive at General Motors. Harley introduced many "firsts" into the automotive industry, and was one of the main driving forces behind the popularization of the "concept car". The Nomad started life as a concept, based on the C1 Corvette (another Harley Earl project). It was basically a two-door station wagon which featured the sleek styling of the recently introduced Corvette. The concept debuted at the 1954 GM Motorama auto show to significant fanfare.

Due to the positive public reaction, GM approved the Nomad for production. However, the approval was only if the design could be applied to their standard full-sized passenger car line. As a result, the Nomad was introduced in 1955, based on the Bel Air. It was considered a halo-car, only selling 8,386 in its first year. The Nomad continued to be built until the end of the 1957 model year, and had its styling updated each year to match the Bel Air.

The Hot Wheels Classic Nomad was another Ira Gilford design, and was based on the 1955 Nomad. In typical Hot Wheels style, however, Ira didn't leave it stock.

The casting featured hood vents, dual side-pipes, a sunroof, and unusual quad-headlights. It also featured an opening hood, a rarity for an early Hot Wheels casting.

Although the Classic Nomad is quite tame by early Hot Wheels standards, it still has that unique flair to be considered a proper Hot Wheels casting.

(Source)