I finally remembered to buy new batteries for my camera, so I'm going to try and get caught up in one long photo filled post.
I completed a couple HWEPS recently.
First, my HAWL from CyborgAbe:

The Target Exclusive M2 VW Trasporter is a definite Coup! I now have both colors, blue and red, in my collection. Thanks Abe!

Another HAWL, these VWs came in a HWEP with PlasticPrints:

The Type 34 Ghia gave up its shoes for another car, walks a little funny, but we'll fix that. I have that blue RAOK Bug on the right, in red. Now I have a pair. And the ratrod VW Bug RAOK, one of my all time favorite HWs castings! Thanks PlasticPrints!
I've hit quite a few stores in the last week or so and here are a few of the things I encountered in the diecast aisles:
Here is a freshly stocked display of M2 Cars in one walmart, with not a single set of usable white walls in the lot. (Totally useless display...)
Alongside is an ERROR Redline Corvette, OMG it flipped over!!! Must be worth a mint. Too bad I didn't have 94 cents (or whatever they cost...) to invest in my ebay futures...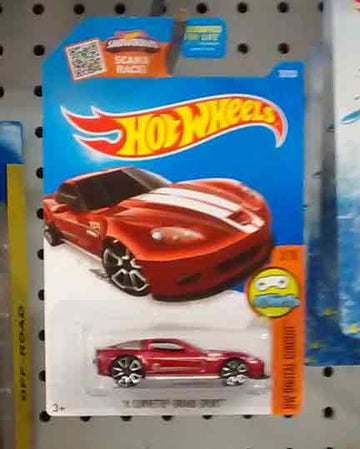 A sight that's becoming more and more common lately; a lonely Corvette Treasure Hunt, pining away on the pegs, waiting for a new owner.
This has got to be the most unloved TH I've ever seen. I had to stop buying them because I'd given one to almost everyone I know who collects Vettes.
I finally found a TRU with some of the 1994-2004 Johnny Lightnings, and, More Corvettes! And a Ford dually tow truck, a '57 Nomad, and a Sox & Martin Pro Stock racecar.

Last but not least, I finally found the Hot Wheels VW 5 Packs. Walmart had them on "sale" for $4.96, so I bought two. The GTIs, and the Things, and the New Beetles will all be up for HWEPS.

I could have sworn I had more photos and stories, but I must be mistaken. I have a few more HWEPS brewing, if you know who you are, shoot me an email, and we will get them moving along.
And, I'll try to stay more current and not have to post so may things at once.
Thanks everyone.