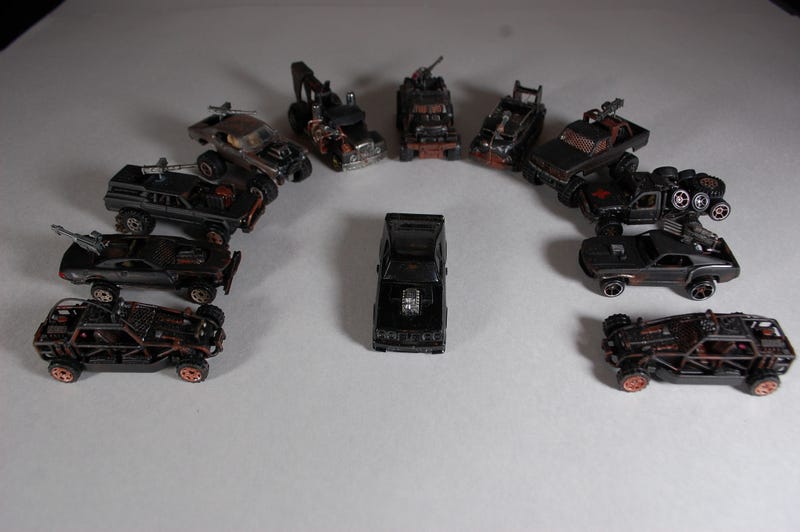 I've been building Fury Road inspired Mad Max customs as something I can do with a broken collar bone. Now that I have a bunch of them I thought I'd share.
The Cruise Bruiser got a wheel swap, front push bar, machine gun, and rusty chains hanging from the back.

The Angry Horse had the rear area cut out for a gunners platform, the suspension raised, side protection bars added and a dart gun mounted in the back.

The Technical didn't need much, just some protection for the driver and a gatling machine gun in the back.
The Hate Machine has the body of a Nova grafted onto the chassis of a full on desert racer, with the interior modified to fit and a machine gun & gunners platform on the back.
The Claw is a plow rig. With a modified crane on the back holding a giant claw to drag along the ground, beefed up rear wheels, new grille and the harpoon gunner hanging off the side, this truck can drag nearly anyone to a stop, especially when working alongside...
The Dig Rig. After swapping in new wheels and jacking up the rear suspension, a ramp & cable rig was build on the back to hold the vicious plow setup. A harpoon platform was built over the engine, and the harpoon itself was mounted on the roof.
The Fire Burn was another truck that needed very little. Once again it got protection for the driver, some detail painting, and a weapon. In this case, a flamethrower.
The Mad Mary is a convoy escort. While the original car came heavily modified, it was further made ready for the Fury Road by raising the body higher off the chassis, swapping in some more aggressive wheels, adding a push bar & mesh windshield. Oh, and cutting most of the roof off and modifying the rear seat into a gunner's platform complete with gatling gun.
The Tire Medic is actually based on a vehicle from the movie, and is intended to provide replacement tires & parts to keep the other vehicles in the fight.
The War Buggies carry no mounted weapons, and limited armor. They are intended for scouting, or to get some War Boys close enough to mount a fleeing vehicle.
No Mad Max movie is complete without the last of the V8 Interceptors. I found this Ertl cast covered in "Scooby Doo 2" tampos. All it required was those scrubbed off and a wheel swap. While it is not exactly right, it is close enough to look the part.
I hope you liked these. I have another half-dozen still in progress(including that outlaw that caught so many people's eye), and dozens more cars waiting to go under the knife as I come up with new ideas.