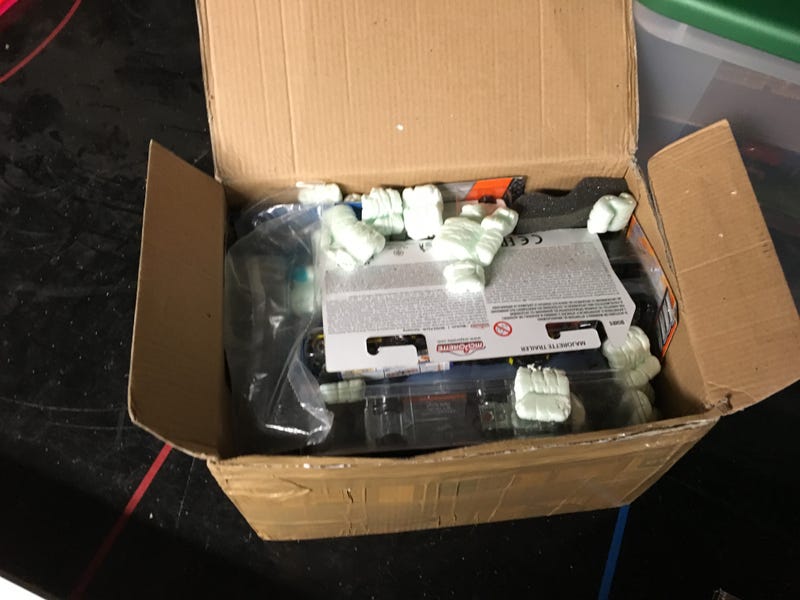 The most long awaited, eagerly anticipated iHWEP is finally here! Now I have to wait until hurricane-daughter goes to sleep to open it! The anticipation is killing me! AAAAAAHHHHHHHHHHHHHHHHH!!!!!!!!!!!!!!!
UPDATE:
So I finally got the kiddos to bed, ate dinner, and talked with the wife for awhile without her knowing I was perseverating about what was in this box. Then I headed down to the basement and busted out the utility knife.
This iHWEP has been roughly six months in the making. What you see here, in addition to what was initially agreed upon, is what happens when The Duke of Tinfoil Headgear feels guilty about life happening and stuff :)
Long story short, this box is a monster! Without further adu:
Nothing short of amazing right there. Majorette, Siku, and Hot Wheels haulers, plus Welly busses. Also have a few Welly singles, including my personal favorite, a Chevy Avalanche. There's a fabulous bunch of MBXs, a couple Majorrette singles, and a load of excellent Hot Wheels, including a surprise '71 El Camino Super Treasure Hunt!
But wait, there's more! Those cool frame parts The Earl of Tinfoil made? I got a bunch of those AND the "distressed" prototype he first wowed is with. Fabbing a custom bed is on me :)
Now, if the world was a sane place, that would have to be it, but we all know this world is crazy. Check it:
This custom Rally Escort is what started it all. I commissioned it in exchange for some stuff I sent, on the condition that I didn't want to see any pictures of it. I'll do an in depth post after I've had time to really digest it all, but suffice to say the level of detail is nothing short of stunning. This is a true jewel in my collection.
Whelp, I'm blown away. This is gonna be a tough act to follow!