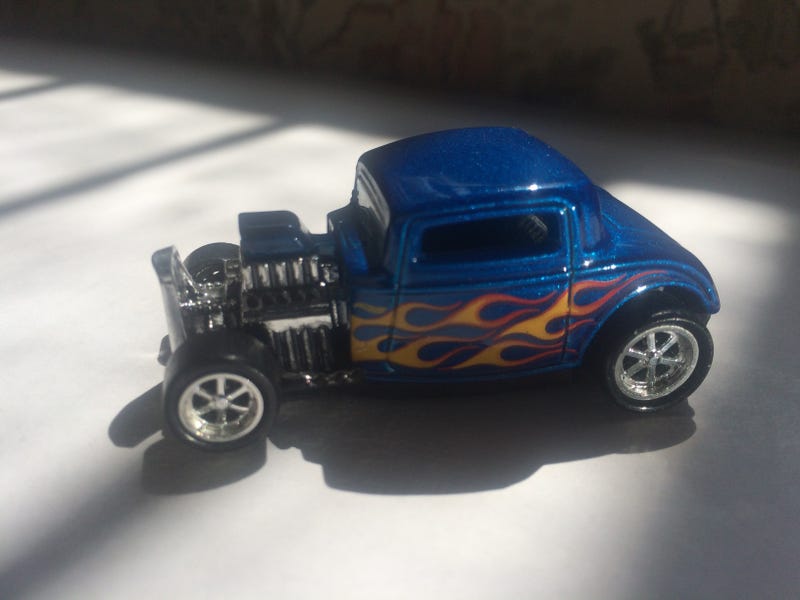 Now I'm not bragging, but I was quite pleased with how this guy came out. I picked up the coupe on impulse, as I had thought I already had an old Johnny Lightning coupe from my youth. Unfortunately, a check of the cases revealed that car had gone somewhere in the years since childhood. After DLM'ing this one, I began to scout about for a set of wheels I thought would bring it to life. I tried several pairs from various projects, but couldn't find anything I really liked, or that fit well enough.
I had obtained a Johnny Lightning Sting Ray III, in the colors of the hometown baseball team (Padres) that most of the paint and tampos were gone on. But the wheels were still in great shape. So, I set about the wheel swap.
Unfortunately, the Sting Ray wheels axle width was a little too narrow to fit in the channel on the Deuce. I had to do some grinding/sanding of the base. But, I finally got enough clearance to get them in place, and it rolls decently. I also had to carve a little on the Lake pipes at the front, to get clearance for the front wheels. I painted the interior black, and gave the motor a light wash of thinned black, to bring out some details. The grille got the same wash.
So, overall, I'm pretty proud of this one. Thanks for looking!