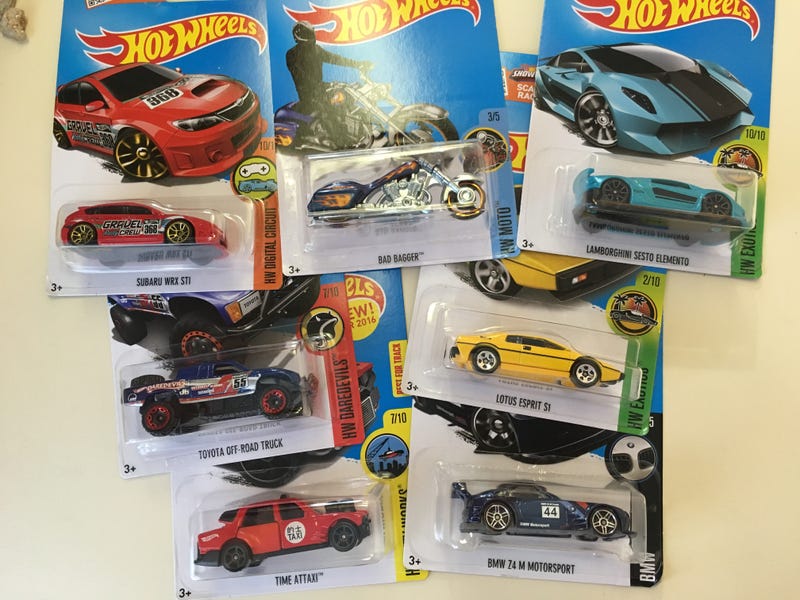 Out hunting with the chilluns this morning, and Target came through! This was my first encounter with the K case, and I'm pretty pleased.
Not one, but two T-Hunt Bad Baggers! (One for me, and one for my oldest son, haha.) Sadly, only one Time Attaxi though. I was planning on taking one apart to see what this plastic door business is all about, but that can wait until I find another. This is a really great fantasy casting.
Now, to business. I have a Monkey, a TV Series Batmobile, and the second Bad Bagger up for trade. I'll consider really anything at this point, but my collection is mostly Japanese and Euro. I have a "wants" list here:
https://docs.google.com/document/d/1fy…
...but seriously, let me see what you have.
On to Part II: The Charger!
I absolutely love wheel variations. I found this with about 15 of the regular-wheel version, and thankfully recognized it before I passed it over.
There is a problem though... Now that I have it, I realize it just does not fit with my collection. I know for the right person, this would be worth something. But for me... Nah.
I have seen these going for stupid money on eBay, but I don't want to go that route. Would any of you be interested in trading for it? I would want to trade for something of slightly higher-than-usual value, but only if it's fair. Let me know if you want to talk about it.
Thanks for reading, and happy hunting LaLD friends!