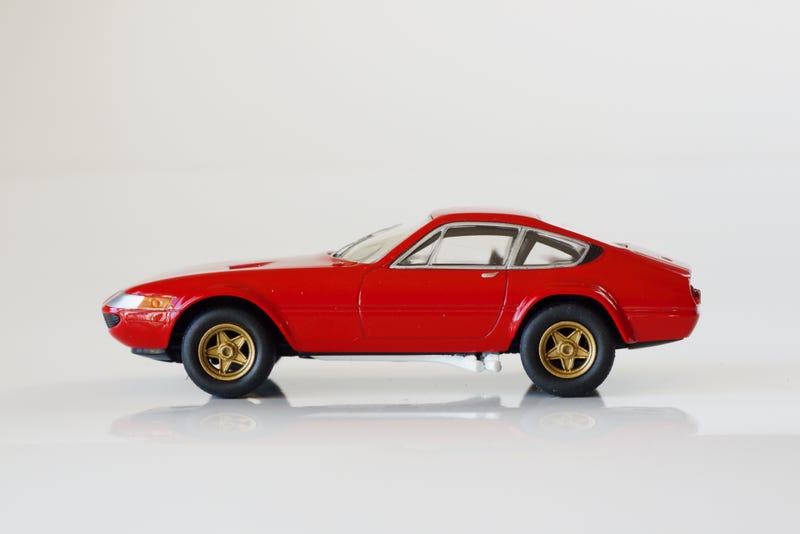 The first racing version of the 365GTB/4 was prepared in 1969: an aluminium bodied car was built and entered in the Le Mans 24-hour race that year (the car crashed in practice). Ferrari did not produce an official competition car until late in 1970.
The official cars were built in three batches of five cars each, in 1970-1, 1972 and 1973. They all featured a lightweight body making use of aluminium and fibreglass panels, with plexiglas windows. The engine was unchanged from the road car in the first batch of competition cars, but tuned in the latter two batches (to 400 bhp (298 kW; 406 PS) in 1972 and then around 450 bhp (336 kW; 456 PS) in 1973).
The cars were not raced by the official Scuderia Ferrari team, but by a range of private entrants. They enjoyed particular success in the 24 Hours of Le Mans, with results including a 5th overall in 1971, followed by GT class wins in 1972, 1973 and 1974. In 1972 Ferrari 365 GTB/4s took the first 5 places of the GT class.
The final major success of the car was in 1979 (five years after production ended), when a 1973 car achieved a class victory (2nd overall) in the 24 Hours of Daytona.
Ok this is my favorite Daytona. I love the aggressive no bumper look. This front end reminds me of the racing corvette grand sports. I absolutely think the quad exhaust out the sides is epic especially when they belch fire. The model however is just decent I mean the rear wheels need to be wider ugggg!!!!! The rest is fantastic quality you come to expect from Kyosho.
Info from wiki
Thanks for looking
P.S.