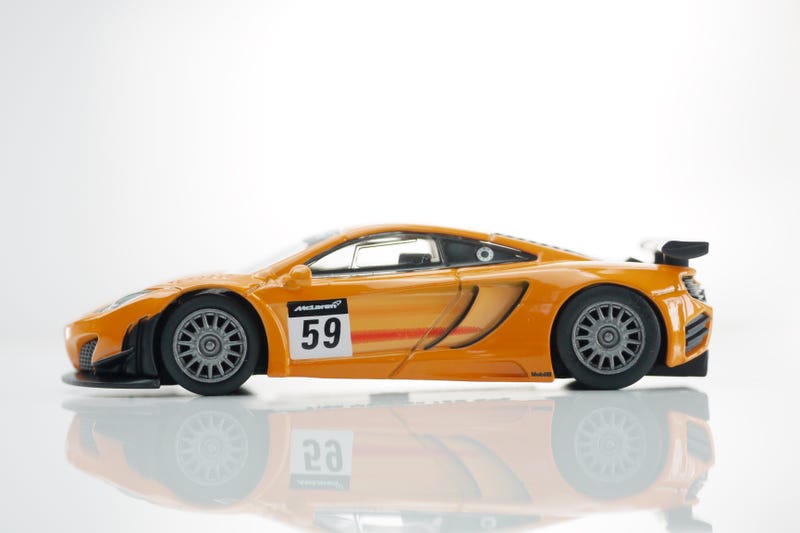 The McLaren 12C GT3 made its international competition debut in 2012, racking up 19 victories and 19 other podium finishes in 98 events. Though the car got off to something of a rocky start, by the end of the season the 12C GT3 was proving to be the car to beat in series adhering to FIA GT3 rules.
McLaren has launched an updated version for 2013, complete with a more advanced aero package, improved cooling, an upgraded ECU and an alternative suspension package. Those of us on this side of the Atlantic may soon get to see the car in competition, as it's (finally) been approved for the Pirelli World Challenge Series.
Sanctioned by SCCA Pro Racing, the Pirelli World Challenge series is run in conjunction with the Izod IndyCar series (and, occasionally, the American Le Mans Series). Each Word Challenge race is run in a 50-minute sprint format, on the same road courses and temporary street circuits used by IndyCar or ALMS.
McLaren Group CEO Martin Whitmarsh was quick to point out that the brand has had a long and distinguished history in North American racing, dominating the Can-Am series from 1967-1971 with 43 victories and five championships. McLaren cars have also won the Indianapolis 500 three times, taking the checkered flag in 1972, 1974 and 1976.
Of the brand's return to racing in North America, Whitmarsh said, "It will be a true testament to the enduring power of Bruce McLaren's legacy to see the McLaren brand make a return to racing in North America on a regular basis throughout 2013, the year in which we're celebrating the marque's 50th anniversary."
Today we have the Kyosho McLaren 12C GT3. It's all we have come to expect from Kyosho. Great paint proportions and graphics. I do think the stance is a bit off but that's really a small gripe. The car has truly been given a more aggressive look with the GT3 package. Yes this is worth having if you are a McLaren collector.
Info from motor authority
Thanks for looking
P.S. "Eins Zwei und Drei"