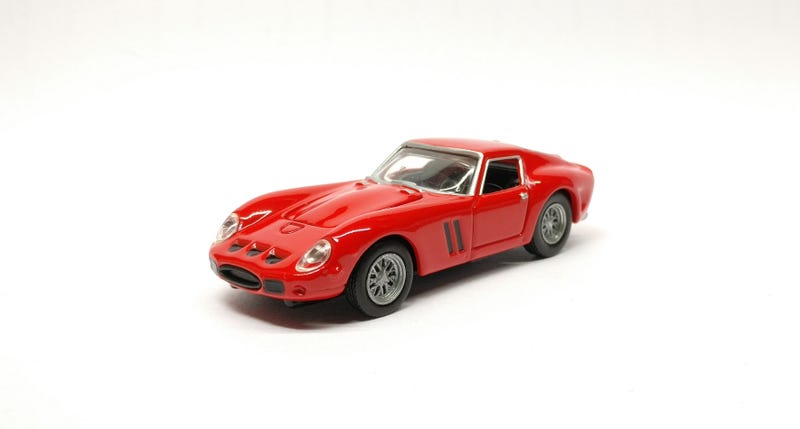 Alright! LaLD Car week '18. So my entry for today's theme (which is red) is the 1964 Ferrari 250 GTO made by Hot Wheels for their 100% oil can . An absolute personal favourite car of mine, it also is one of the most beautiful and one of the most expensive cars ever sold in auctions ($38.1m in auctions) given its rarity.
Powered by a 60° V12, twin overhead camshaft, 2,953cc masterpiece, producing 300bhp. Fed by Six twin-choke Weber carburettors which sat in the centre of the engine's V, mounted on magnesium-alloy inlet manifolds, the cylinder block was cast in a brand of aluminium called Siluminum, with cast-iron wet cylinder liners, and dry sump lubrication. Body was made of Aluminium and was hand beaten to perfection. Result was a car that looked beautiful and also went fast.
The model I've showcased today is a Hot Wheels 100% model with an opening hood which shows off its V12 engine. The wheels were originally chrome but I went ahead and changed 'em to brushed silver and did a slight bit of detailing here and there.
Here's a view of that brilliant V12 engine.
Here's my trusty mechanic who takes care of my diecast cars ;)
Diorama shot.
And lastly a capture while blasting away at high speeds on the expressway!
And that's it! Thanks for looking! Cheers!