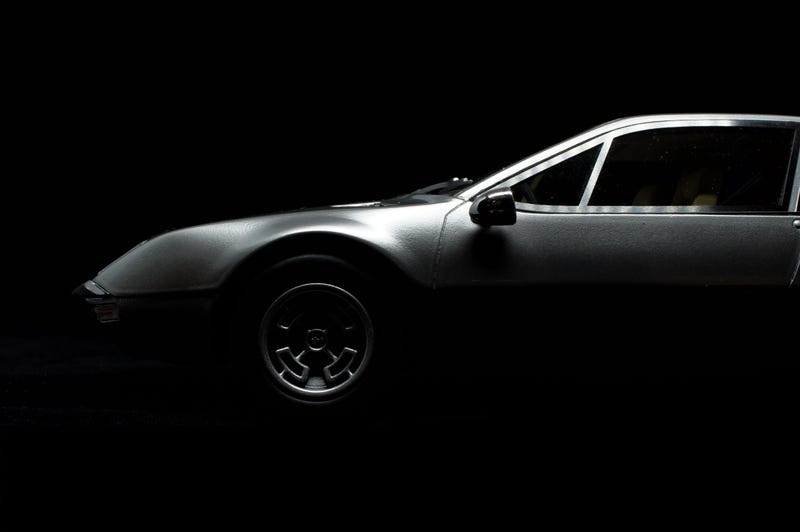 Some of you may remember my hatred for shooting black. Well, I might have a new arch enemy: Silver. Why? Because it's so shiny/reflective some backgrounds make a car appear to be two-tone!
But of course I'm showing another 1/18 today. And of course it's French. Quite sequacious it's an Ottomobile, right?
Obviously it's another Alpine. An A310 for that matter, and the six (6!) headlights make clear it's an early one: a 4-banger 1600. If you want to know more on the A310 look into an older post from me, one of my personal favorites actually.

And online you often here "it's just a 4-banger", as if the first A310 was inferior to the later V6 with it's PRV 6 cylinder. Well, I got news for you: I'd prefer the 1600.
Yes. Because in top-trim the Gordini 1600S was capable of putting out 130hp, while the first V6 did just 20hp extra. Sure the torque was more impressive but the 4-banger was lighter. Way lighter: 825 kgs vs. 980. And all that V6 weight was in a place you'd rather didn't have it: high (it's not a flat 6!) and behind the rear axle.
And although in my younger years I'd approve more of the Opron redesigned V6 nose instead of that poseur 6-headlights 1600 that has grown on me as well. And won't you look at that rear-end: we don't want to add a big black piece of plastic and call that a spoiler now will we? Well, "spoiler" avant-la-lettre perhaps.
All-in-all reasons enough for me to get one from Otto. It's not their best (that silver paint job isn't flawless) but not getting it at release simply means paying a premium if you'd want it later. Right Scott?
One thing for me Otto is undefeated is their lineup. This one is prove of that. They have some "JDM" that I could do without (nothing wrong with JDM - I have two 1:1s for a reason - but there's plenty of that from other parties) but their growing collection of Euro-greatness is highly appreciated! And on that bomb-shell...
Bon Jour de l'Argent!