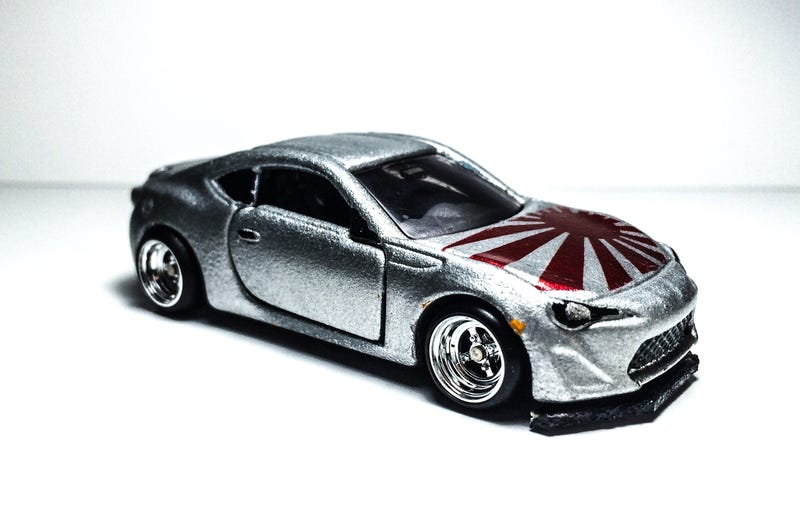 This Custom GT86 Is my Lald Car Week! And Let' start.
Let's first get into the history of the 'AE86'
The development code of this vehicle is 086A[4] and its main production names 86 (pronounced "eight-six" or Hachi-Roku (ハチロク) in Japanese, but more commonly pronounced as "eighty-six") or GT86, reference historic Toyota front engined and rear-wheel drive sports coupés and hatchbacks, and fitted in a FA20 H4 Boxer engine, RWD.
(Credit to wikipedia)
Also called GT86, 86, BRZ. Had 3 Manufacturers Before, Scion, Toyota and Subaru. But since Scion Died in late Januarys. It was merged to Toyota so basically, it has 2 manufacturers now. Subaru and Toyota.
About the Custom:
HISTORY:
I got it in played condition and wanted to restore. So i did, primered it and painted it Sky Blue. How did it get to chrome?!?.. Well it had paintchips and tried to make the chips black. And then it turned out ugly.
So i decided to restrip and chrome the car out.
The Mod:
No primer just pure chrome enamel. (Since enamel does not work on metal.. I clear coated it. But as you can see that the paint texture is rough. And that is why. So Pros and Cons.)
Detailed with Tamiya Acrylic Paint.
And its a bit lifted. Lowered it down and made a Custom Front Splitter
Wheels:
This custom had been finished already 2 weeks before i got the HW 4 Spoke Wheels. So looks like that i waited 2 weeks just to put theese 4 Spokes on this 86.
What i dont like about:
NO SPOILER.
-Recently i just started a wip S2K and just removed its spoiler. Then when the 86 was finished, i had the idea to install the spoiler into it. Which is already finished.
So Tell me your Thoughts and Following and Favorite this Posts helps me boost my ego. Haha. Hope everyone liked it! #jdmstyle. And yes. Nextweek, a Lald Car will be up posted. That's all! @darvz_customs