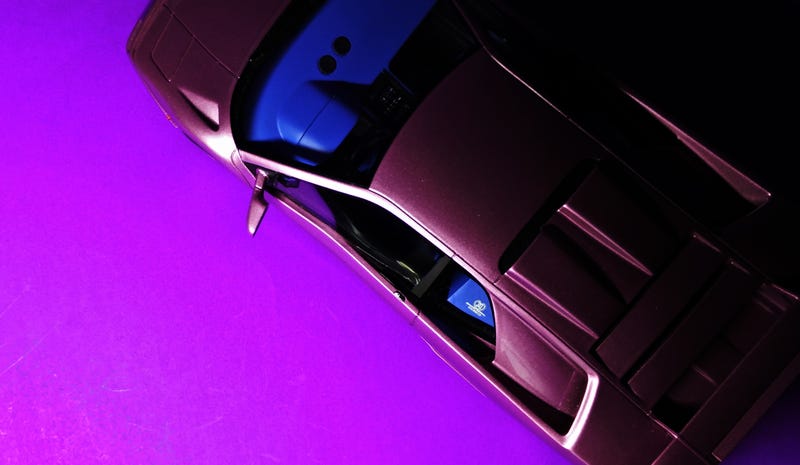 Having two equally gorgeous purple Lambos (not to mention a trio of purple Godzillas) to choose from, I had a tough time deciding what to show for today. Diablo Jota? Murcielago SV? Diablo? Murcie?
But you've seen the Murcielago before. And the Diablo is my favorite Lamborghini anyways. So, el Diablo it is.
If we're comparing the qualities of both models, there's no question the SV has a massive edge over the Jota. I'll save that feature for another day. Today's subject is the Lamborghini Diablo SE30 Jota from the Kyosho Samurai series. Once again, I'm here to advertise their overpriced products to you all. They should be paying me to do this, or at least send me some free samples every now and then.
So, this 30th anniversary Diablo comes in a lavender exterior with a blue interior. It's an eccentric combination that shouldn't look good, but it absolutely does here. For me, the purple puts this Diablo into the "must have" category.
Overall, the model has a couple inaccuracies. The wheels aren't large enough, particularly the fronts, and the ride height should be more aggressive. Elsewhere, there's not much to complain about. Being a sealed resin model means you get neither the scissor doors nor the pop-up headlights. Therefore, in addition to the high price tag, I can understand why collectors would shy away from the Kyosho. But then again, what other options do you have?