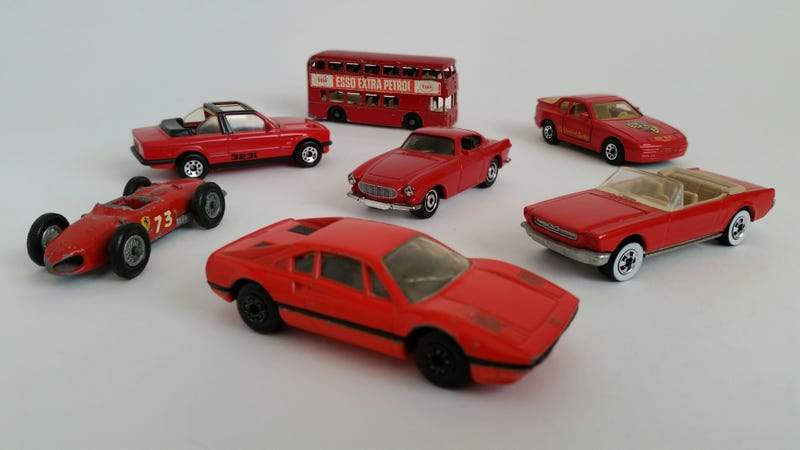 Over the past few years, I've culled a nearly 2000-piece 1:64 collection down to just a few hundred special cars. Of those, a few have been deemed "house-worthy," meaning they get to live on display in my domicile. In honor of LaLD Car Week: Day One, here are a few amusing house reds.

Up front is my beloved MB Superfast Ferrari 308GTB, which I got new in 1981 at the age of six. For years, it was my most cherished possession, a totem for the kind of life I wanted to live as an adult. I'm still working on that, but whatever...the 308 lives on.
The Lesney-era sharknose Ferrari was a gift from a friend back in the '80s; it had belonged to his older brother, and was being purged along with other "useless" childhood artifacts. The London bus is of unknown provenance, but it reminds Mrs. Citizen (@constantalchemy) of her year spent studying in the UK and thus gets a display space. Same goes for the newer Volvo 1800...it's her favorite automobile of all time, so it gets to be a House Car.

The MB E30 Cabrio and HW '65 Mustang are mint articles from a collection that I acquired around 1999. Most of that collection was sold off piece-by-piece, but I couldn't bring myself to get rid of those two. Finally, the 944 Turbo was one of my last "toy" cars as a kid, one that bridged the "playthings" and "collectibles" eras of my life, and it remains one of my all-time favorites.