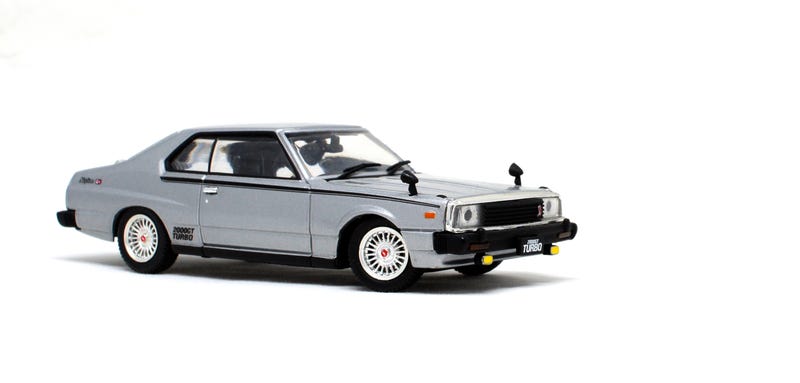 Kenmeri, Hakosuka, Godzilla. All magical names for some generations of Nissan's Skyline line of products. So these are, for a reason, represented a lot in the world of diecasts. Not so much for this generation, the C211 from 1981, maybe due to it's a bit "beige" looks. But then again, it's boxy '80's looks were really mainstream back then. And the C210 (the C211 was "just" a facelifted C210) was the first Skyline to give us that glorious... Turbo!
It also was the first Skyline to get exported to Europe. I really can't remember seeing these in my youth but that could be a result of those not that out-standing looks, I could easily confuse the C210/C211 saloons for a Nissan Laurel.
"We" never got that Turbo though, the only Skylines reaching Europe came with a fuel injected 2400 cc I6 engine putting out 130 hp. It wasn't as if the 2000 cc I6 Turbo was way more powerful with it's 140 hp. And turbo engines back then were not as refined as they are today so I can imagine why Europe skipped on the L20ET, Japan's first turbo engine come to think of it! And there was another first: This was the first gen of Skylines being available with a diesel as well. In total 539,727 C210/C211's were produced.
The model is a 1/43 from the Aoshima Bunka Kyozai brand DISM. So totally JDM bro! It has features I rarely see on my 1/43's. The wheels turn. And it has... Working lights on both front and rear!
It seems to be one source of light on that rear though as it depends on the angle a bit to see all of the 4 taillights to appear to be lit: the last picture shows us this clearly.

I'm not sure if this generation was active on the tracks as well. But for LaLD car week I had to return to my old panning format so here it goes: Skyline goes mount Fuji!
There's not much left to say for this one, not by me anyway as I really don't know much about JDM. So I'll just throw in some last pictures and wish you all the best for this awesome week. Sayonara!