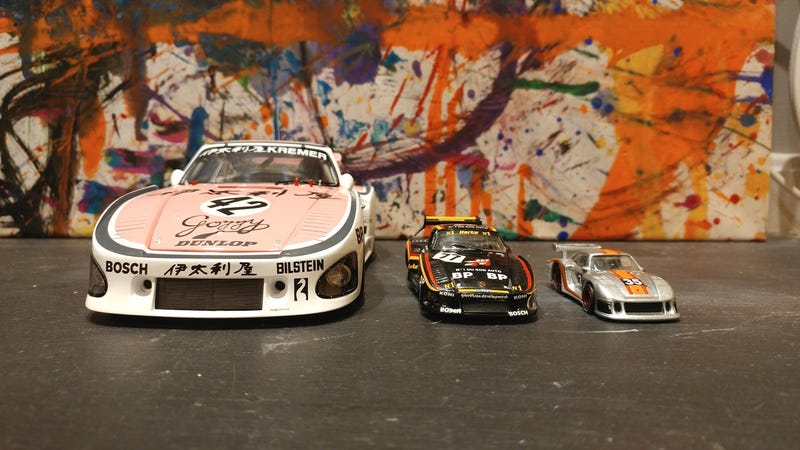 I know I've shown all three of these already, but not during Car Week! And I also know that it's a cheap shot perhaps to feature the Gozzy Kremer Racing 935 K3/80 again so soon, but, like Howard said about his Zonda, how could I not? So here is the sisterhood (or at the very least, cousins) of 935s: 1:18 TSM Porsche 935 K3/80, 1:43 Quartzo Porsche 935 K3, and 1:64(ish) Hot Wheels Roadrcr Porsche 935/78 "Moby Dick."
I recently got a new phone with a much MUCH better camera than my old one. It has manual settings so I can play with ISO, shutterspeed, and even has manual focus! I'm not talking tap to focus on an area, I mean full slide-it-yourself focus.
Hitting all three scale categories in one post. For efficiency, y'all. Judges, please take my attempt to make things easy and convenient for you into account! ;)
Let's go in order of size, small to large.
Hot Wheels Roadrcr Porsche 935/78
It's the only one of the trio that is not a K3, and while I do have a Matchbox K3, it is currently in disassembled state. It used to be light blue, then turned Brumos as one of my earliest customs, and then I thought I could do better, so into the stripper it went. It's in the queue but no idea what it will become.
Anyway, the 935/78 was Porsche's factory endurance racer in Group 5 at Le Mans, winning in 1978 with this 750 HP beast, reaching speeds of 228MPH on the Mulsanne Straight.
This is the HW version from the elusive Roadrcr series, and definitely was a grail car for me in my Porsche collection. Snagged it on Ebay from Canada for $16 shipped! Whoo!

Quartzo Porsche 935 K3
Next up, the #77 Hertz/BP 935 K3 that came in 11th at the 1982 24Hrs of Le Mans. I've featured this one before, so I'll link to it here for the full story, but here are some new and improved photos!
TSM Porsche 935 K3
You all know this one. It's awesome. And it really allowed me to show off the better camera. Look at those interior shots!! Those were never possible on my old phone. I can read the caution label on the battery in the frunk!
Thanks for your attention, hope you liked the photos! The backdrop is a painting my son made a few years ago at a father's day event where we built a catapult together and then used that catapult to pelt a canvas with paint! Makes for a great stand-in graffiti wall!