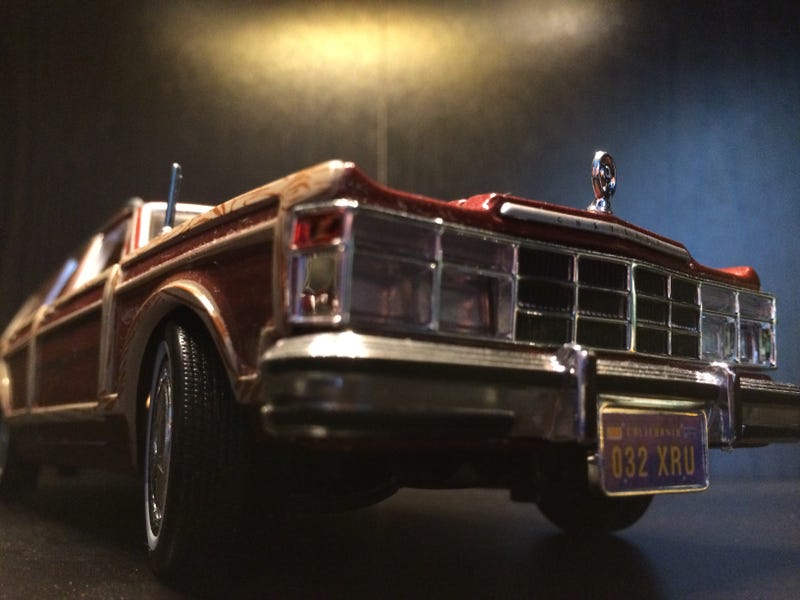 This is a 1/24th, but dtg said its ok to enter it so here goes. It'll probably be in the 1/18th category. If this doesn't qualify I have a Smart ForTwo waiting in the wings :)
Ladies and gentlemen, what does Jalopnik like? Wagons? Definitely. Woody wagons? Yes please. Late 70s American woody wagons? Oooohhhhhh yes. Well, I aim to please, so here it is: my 1979 Chrysler LeBaron Town and Country Woody Wagon.
This is surprisingly a Motor Max. It's got decent detail and quality for an MM.
I got this for Christmas a year ago, and boy am I loving it.
Feel that woody power. As for the car itself, it was produced near the end of the Malaise Era, from 1979 to 1981, as a wagon variant of the Chrysler LeBaron. Other than that, it's not too extraordinary. And now, photodump until the 1/64th.
And here's our 1/64th competitor: From the HW Boulevard line, a 1978 Ford Mustang II, the Mustang that all enthusiasts love to forget.
It's a good cast but for some reason it's a pegwarmer. My local Giant still has about 8 or 9 of these.
It does have Real Riders. Quite a large spoiler too.
And now, photodump:
That's all for today.