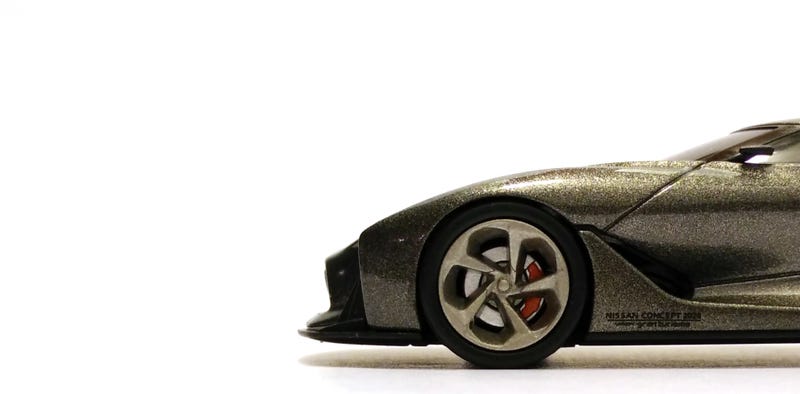 At first, I was thinking "what in the world can I show for Wacky Wednesday?" I don't have very many fantasy cars, and most of my collection consists of realistic cars. Nothing extreme, nothing over-the-top, nothing wild. And then it hit me. There's a wacky car sitting right here on my table, staring me in the face.
This is it. This is the TLV Nissan Concept 2020 Vision Gran Turismo.
It's one of a long line of concept cars made for Gran Turismo 6. Many say it's a concept of what the future GT-R will look like. If that's the case, then call me a fan. I love the design of this thing, as ridiculous as the body sculpting may be.
I used to be a pretty avid Gran Turismo player. The only reason why I even own a PS3 is to play GT. It started with GT5 Prologue, then GT5. Eventually, I got around to grabbing GT6, but I didn't play it long enough to get to this car. I may never know what it drives like but with this model, at least I can stare at it all day. TLV did such a fantastic job with this one.
The side mirrors are included with the car and you have to install them yourself. I literally groaned when I saw it in the box. But I gave it a shot, and it wasn't as hard as I originally thought. The leg of the mirror fits perfectly into the slot. They really know how to do fit-and-finish.