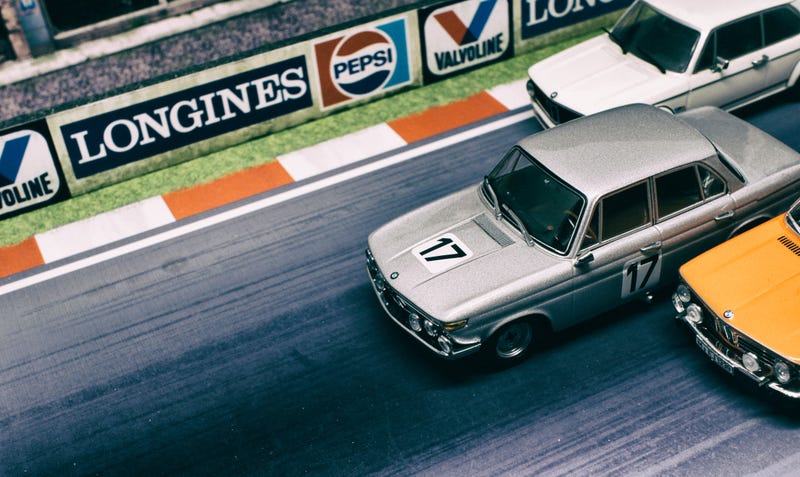 No 7-series today. No Recycling either! A bit of a suprise: A totally new model! It is a Neue Klasse, I did some of those on day 2, but after I announced on Instagram ///May week was coming fellow Instagrammer and local BMW nut @denniselbers (owning both an M10 E21 and an M20 E12!) came to the rescue!
We quickly decided I'd shoot his Minichamps 1/43 2000 TI that raced the 1966 24h Spa-Francorchamps carrying the #17. Being driven by German Hubert Hahne and... Belgian endurance God Jacky Ickx!
Quite successfully as a matter of fact as they won it. I'd like to share more statistics but my regular source (racingsportscars) seems to be offline. Sorry about that. Maybe TFritch can add some details on the race?
It is a glorious piece with it's steelies. And yes: it did race on those of course.
On Instagram I tended to use the #needsmorerallylights tag a lot but this one obviously is complete. Put some more and there's no way the radiator can take all that heat.
And if you think: Now did Minichamps forget to put a tailpipe just there? No they did mount one but it's sticking out from the side, just under that #17!
So thank you Dennis for having me shoot it! And starting up that glorious M20 this morning. And keep doing that great job of yours: expanding the #BlindWallsGallery of Breda!
So that's it for my last ///May week post. Wait, I did promise Scott (SN210) to have another Cameo of the glorious E46 M3 GTR (another sidepipe!!!) so...
Tschüss!