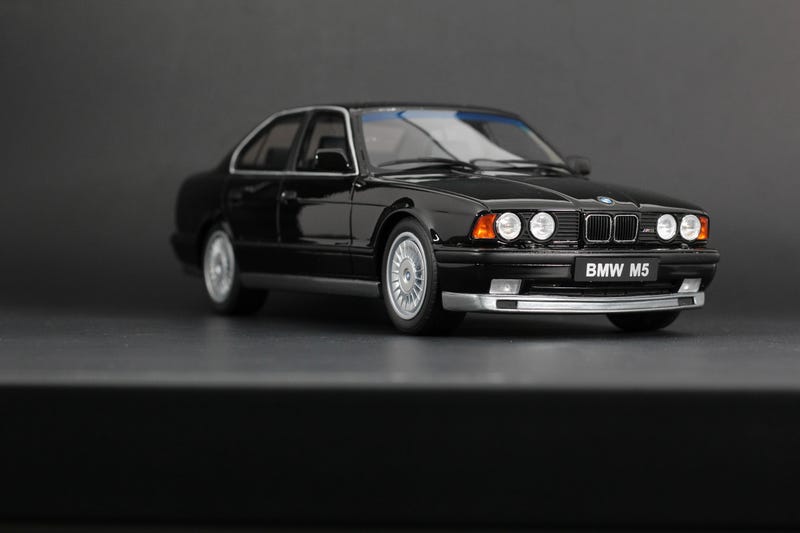 The E34; the other M5. The E28 was the first, the E39 was well, the E39. The E60 was the bat-crap crazy one with a 500hp V10. The F10 is the current one. Where does that leave the E34?
Well, it was the last hand-build BMW. Each one took two weeks to put together. It was also the last M5 with a silky-smooth inline 6. But was also the first M5 that got the Touring treatment, and we all know that the wagons are the coolest.
Ottomobile had released the E34 a few times already by the time I finally got my hands on this one. The first was in Daytona Violet with M-throwing star wheels; quite possibly the greatest possible color/wheel combo for an E34 in all of history. They followed up this release with a blue M5 on throwing stars, which is probably the second best possible look. Otto wasn't done yet though, they molded an Touring painted in black on M-parrell wheels. Amazing! You've seen Pillarless Coupe's beautiful shots of that car before.
Their latest E34 M5 release is this bad boy right here. I Pre-ordered this one back in March. I'll admit, black paint and style 20 wheels certainly wouldn't be my first (or second) choice, but after seeing the prices the other Otto E34's I've mentioned command on the second-hand market, I just about jumped out of my seat when I saw this one listed with their Pre-orders that month. I kind of wished I ordered two as an investment.